29 May 2013
Inspired by ..... MAPS!
What fun we had at last week's 'Inspired by Maps' event. At least, some of us had fun, as you can here see from these photographs all expertly (and creatively) captured.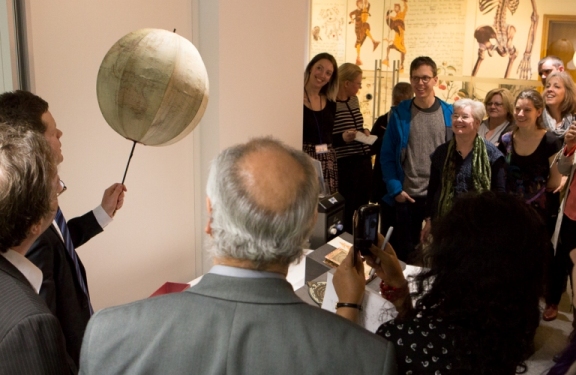 Image ©Luca Sage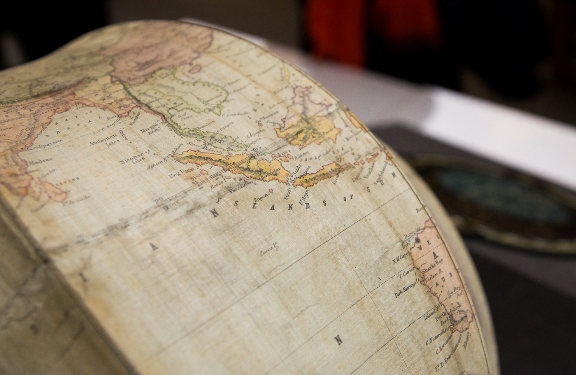 Detail of Betts' patent Portable Globe, 1860 [British Library, Maps C.3.bb.6.] Image ©Luca Sage
The purpose of this little event, excellently organised by Fran Taylor and our Creative Industries team, was to demonstrate the creative potential of the national map collection here at the British Library. As inspiration? Yes. As source material? Indeed, but also as objects which have themselves been inspired by the world, and a desire to capture an essence of it.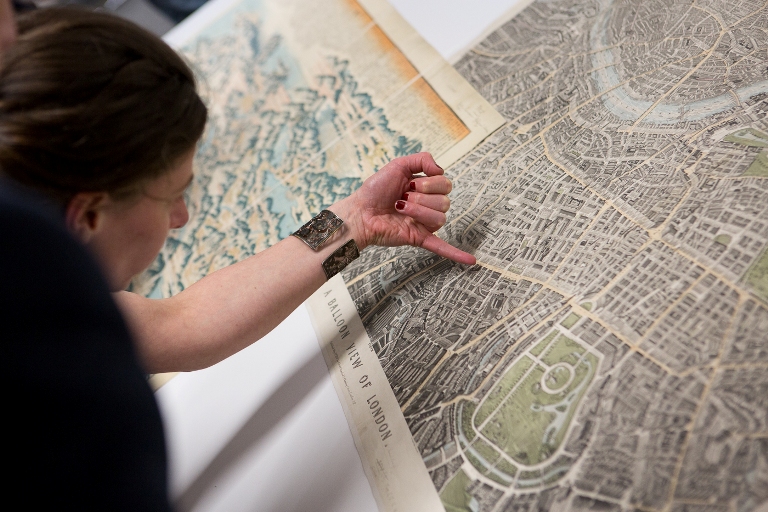 Detail of 'A balloon view of London as seen from the north,' 1851 [British Library, Maps 3815.(18.)]. Image ©Luca Sage
For example, the soaring panoramic view, from the 2nd to the 19th centuries an imaginative vision of what cities would probably look like from up there, was replaced by the first views taken from actual sightings from balloons (this one 1860), which were accompanied a few decades later by the first aerial photographs taken from a balloon by Cecil Shadbolt (1884, British Library, Maps C.44.d.49-51], and still later, technically astute landscape photography by artists such as Michael Collins. Both inpired by, and inspirational, and the British Library has them all.
Inspiration was surely possessed by the publisher Gordon Cheers when he made it his life's work to produce the 'Earth Platinum Atlas,' the biggest atlas in the world (proof pages shown at our event last week), and although a living wage motivated  the Thames school chart-maker John Burston to compile his  1666 Mediterranean sea chart, he was inspired to make it tasteful, elegant and practical, mounting it on wooden panels.
The juxtaposition of the two below, is (he says with unabashed pride) just a little creative.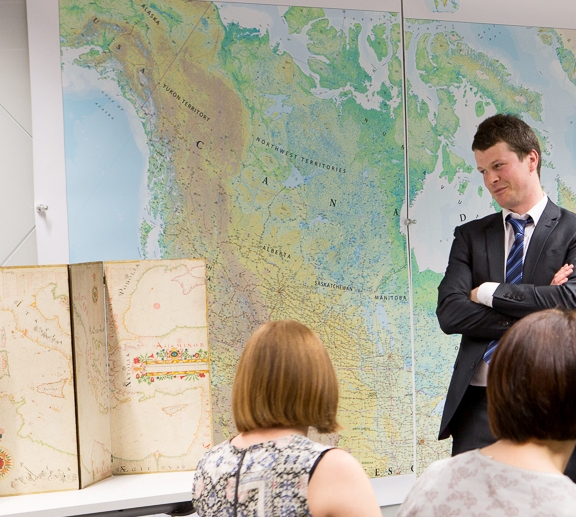 ©Luca Sage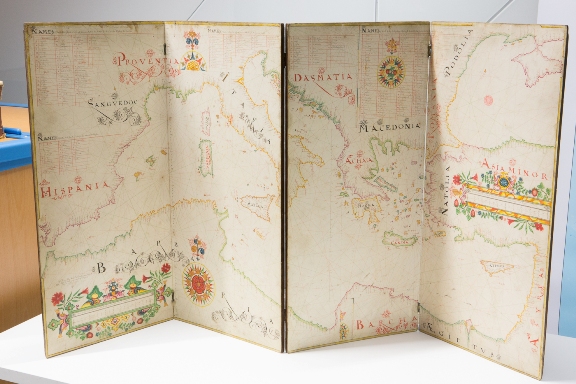 John Burston, [Portolan chart of the Mediterranean Sea, 1666, British Library Maps C.21.e.21]. Image ©Luca Sage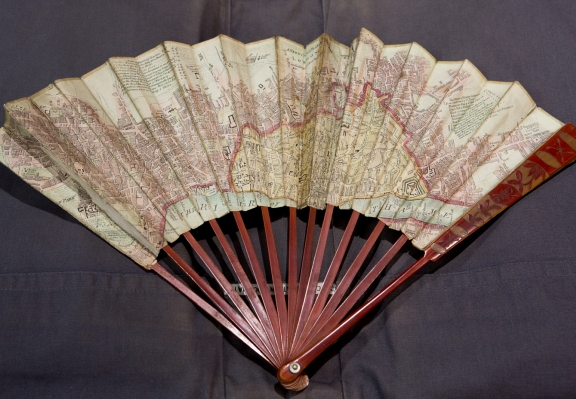 John Bennett, 'A new and correct plan of London...,' 1760 [British Library, Maps 188.v.35.]. Image ©Luca Sage
Creatively, there really isn't any limit to what maps can be used for, not just as images, pictures, things which can be replicated on screens, but as physical objects. It is impossible to convey the entire (and exclusive) point of the 'Earth Platinum Atlas' – its size - on a computer screen, just as it is impossible to appreciate and explore the physicality, textural, even fragile state of things like Betts' Patent portable globe or the fan map of London from 1760 (which includes hansom cab rates, naturally).
There are all manner of ingenious objects and ideas within the map collection, only 20 of which were on show last week, but at least a few million remaining to be seen, with a reading room space in St Pancras in which to view them.