10 January 2014
Done! 2,700 maps georeferenced by volunteers
Earlier this week, georeferencing of the Library's collection of first-edition Goad mapping of British and Irish towns was completed!
In just seven weeks, the work of a great many people brought order and place to what was previously simply 2,700 digital image files. The precise location of each scanned map - for the over 50 cities and towns mapped by the Chas. E Goad firm 1886-1930 - is now known. Places small (Goole, covered in just three maps) and  large were included, with the giant of London making up more than 1,000 maps, as shown in below graphic. All maps may be accessed here.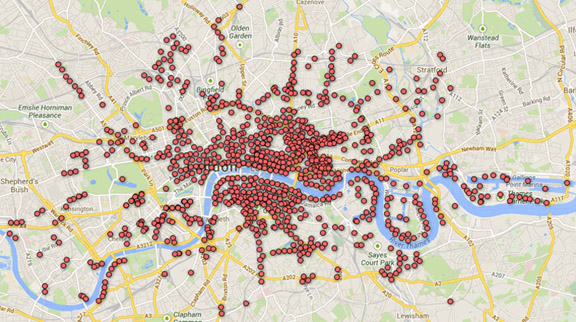 "Thank you" to all the BL Georeferencer participants, and in particular to two volunteers who, since the release of 20 November, have contributed an outstanding amount of time and effort. Dr Susan Major added over 10,000 control points to the Goad maps, and in addition played an active role in offering feedback and suggestions. Maurice Nicholson, a past Top Contributor, submitted the most points for the military maps, and his contributions to Goad were second only to Susan.
What's next? We have a team of volunteer reviewers - dedicated participants invited to review for their skill and expertise - to quality-check submitted metadata. Maps requiring further work will be released back to the crowd, so expect to see maps become available over the next few weeks and months. Check back at http://www.bl.uk/maps/