08 November 2012
The Stephen Oliver Archive at the British Library
It's twenty years since the English composer Stephen Oliver died, aged 42, leaving behind a huge array of musical works, from small instrumental pieces to operas.
Stephen Oliver's published music is issued by Chester Novello. But many of his compositions, notably small-scale chamber pieces and songs, remain unpublished.
Stephen Oliver's family have generously presented his archive of music manuscripts and papers to the British Library. The 177 volumes of material have now been fully catalogued and are available for researchers to consult in the Rare Books & Music Reading Room at the Library. The archive reveals the talent and versatility of the composer and the extraordinary quantity of music he produced in his short life.
Full description of the Stephen Oliver Archive (PDF file, 105KB)
Stephen Oliver began composing as a child. He wrote his first mini-opera, Thespis, or The Gods, Grown Old for soloists, chorus and piano in 1966, when he was 16. At Oxford, where he studied with Robert Sherlaw Johnson and Kenneth Leighton, his operas All the Tea in China (1969), The Duchess of Malfi (1971) and The Dissolute Punished (1972) were performed. The Duchess of Malfi drew particular praise, and within a few years Oliver was able to earn his living as a full-time composer.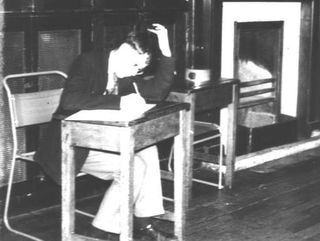 Oliver would become one of the leading composers of theatrical music of his generation, writing 40 operas, incidental music to more than 15 Royal Shakespeare Company productions, the musical Blondel and scores for TV and radio, including for the BBC radio production of The Lord of the Rings. Oliver also gave lectures on music and took part in radio and TV broadcasts.
Recordings of a number of Oliver's compositions are preserved at the British Library, including his symphony and the opera Timon of Athens. Also held are recordings of plays featuring his music, notably the Royal Shakespeare Company's productions of Shakespeare's Othello (1980) and David Edgar's Maydays (1984). Oliver's soundtrack for The Lord of the Rings and excerpts from Blondel also feature in the Library's Sound Archive, and there are several recordings of interviews with Oliver. Finally, there is a copy of a tribute programme presented by Michael Finnissy after Oliver's death in 1992. None of these recordings is available online for copyright reasons, but all can be made available to researchers on-site at the British Library.
Twenty years on from Stephen Oliver's death, it's a pleasure to make his archive available for consultation. I hope it will provide researchers of 20th-century music and culture with a wealth of material to explore, and that musicians seeking new repertoire will bring some of the unpublished pieces to light once more.