Tom Lean, interviewer for Made in Britain and An Oral History of the Electrical Supply Industry, writes:
2012 has seen the start of a new National Life Stories project on the history of technology.  An Oral History of the Electrical Supply Industry will create a national collection of interviews with the people who shaped and operated the electricity industry in Britain. Expected to comprise around 45 life story interviews, the project will document the development of an industry which has become part of the fabric of life in Britain, but whose operations remains largely hidden to those outside it.
The industry itself has changed dramatically over the years. Before the 1940s, Britain's electricity industry was a patchwork of local independent electricity companies and corporations linked, to some extent, by a centrally controlled National Gridiron of high power cables. In 1947 it was nationalised into the British Electricity Authority. In 1955 it was reorganised into the Central Electricity Authority. Then reorganised again in 1957 to create the Central Electricity Generating Board and Electricity Council. And in the 1990s it was split up into various parts and privatised.
In the same period, electricity use in the home went from being a relatively uncommon novelty to being utterly essential. To feed this need for electricity the means of its production developed too. Small local power stations were replaced by enormous facilities, built atop mines to satisfy their hunger for coal. Nuclear power promised to generate electricity too cheap to meter, before its risks and costs became clear. As environmental concerns have built, renewable energy sources, wind and hydro-electric power, have become more important. Along the way, through postwar fuel shortages and consumer demands for one-bar electric fires, long hard winters, oil crises, miners' strikes, political dithering, technical troubles and other events, tens of thousands of people worked every hour of every day, to keep the lights on, no matter what.
An Oral History of the Electrical Supply Industry will document the development of the industry, and its day-to-day operation, through the life stories of those involved. Further information on the project can be found on through the National Life Stories webpages.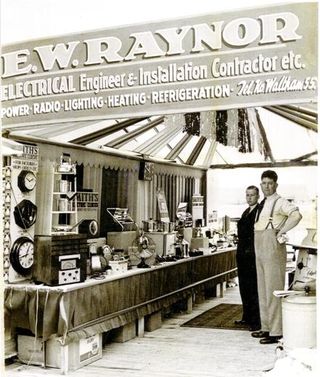 Electrical appliance stand at Lincolnshire show c.1938.  Courtesy of Frank Raynor.