I was reading an article in yesterday's Evening Standard about a shopping centre in Stratford, London that will open next Christmas, and came across a mention of pavements that would generate power from the footsteps of pedestrians.
I investigated, and came across an article in May in the Guardian about Laurence Kemball-Cook's invention, Pavegen®. He is described as a 24 year-old design engineer who has become "one of the most feted young innovators in the UK." Stepping on a paving stone creates power, of which 5% is used to light up a large LED in the centre of the stone and the remainder is stored in a battery. "So as the public walk, their footsteps are harvested, and they don't necessarily even realise it's happening. Call it stealth energy." There is a Pavegen Systems website, which says the stone would move less than 5 mm with each footstep.
The article says that urban planners are clamouring for it. I'm not clear how exactly the power is to be used. Patent application GB1007497.9, "Energy harvesting", was applied for by the company in May 2010 which means publication towards the end of 2011 [It's since been published as, indeed, Energy harvesting as an international patent application -- Ed., 16 Nov. 2011].
Here is a video showing the product in action.
There are already patents out there for ways of generating power from footsteps or, more usually, from vehicles going over roadways. Cars have a lot more weight, of course. The inventions often involve using flexible bladders or some other means of taking the pressure, and the power is normally stored in batteries.
There is for example the Vehicle powered roadway generator by Bhajat Mohamad Khalaf of London, with its main drawing shown below.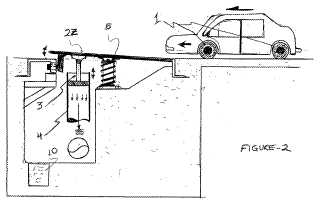 Relevant patents are widely scattered in the classifications, but this is a list of some (mostly relevant) examples using keywords.
Pedestrians using the new paving will feel as if they are moving over soft ground, or a thick carpet, and will go slower as some of their effort in walking is being absorbed by the paving. Maybe not that stealthy after all.
The light effects will be fun, though, especially at night, and I'm sure games will evolve to use those effects.