Richard Buckminster Fuller was an extraordinary visionary, and many of his ideas continue to be debated today. He can be called one of the first of the "green" designers. He believed in doing more with less.
A recent TV programme discussed the idea of putting a giant dome over the centre of Houston, and mentioned Buckminster Fuller's work on geodesic domes, of which the Eden Project in Cornwall is probably the best known example. A repeated pattern of hexagonal shapes forms the structure.
I have identified the following 24 American utility patents by him, given in order of publication.
Building structure (applied for in 1926)
Mold for building blocks and process of molding (1924)
Process of manufacturing fibrous blocks (1924)
Motor vehicle (1933)
Prefabricated bathroom (1938)
Building construction (1941)
Building construction (1941) [a different patent from the above]
Cartography (1944)
Building construction (1951) [the key geodesic patent]
Building construction (1955)
Self-strutted geodesic plydome (1957)
Geodesic tent (1957)
Synergetic building construction (1956)
Tensile-integrity structures (1959)
Undersea island (1959)
Suspension building (1961)
Geodesic structures (1961) as illustrated below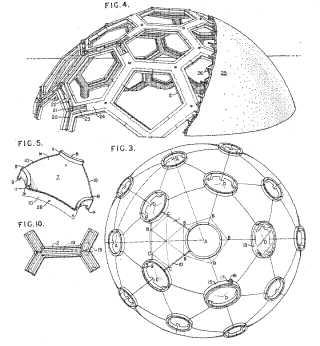 Laminar geodesic dome (1960)
Octahedral building struss (1964)
Watercraft (1968)
Floatable breakwater (1973)
Non-symmetrical tension-integrity structures (1973) 
Floating breakwater (1977) as illustrated below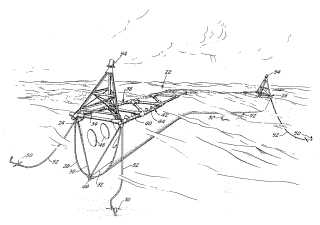 Hanging storage shelf unit (1981)
There was also an American design patent, Design for a prefabricated house (1941).
I checked this against Inventions: the patented works of R. Buckminster Fuller, published in 1983, the year of his death. It included one that was never published, 4-D House, which was an abandoned application.
One invention that the book missed was published in France and the United Kingdom but not, apparently, in the USA. It's his Anchoring system for an undersea island (1963), illustrated below.