In 2005 Christopher Roller of Minnesota applied for a US patent with his Godly powers specification. It was published in 2007.
In it he states that "Christopher Anthony Roller wants exclusive right to the ethical use and financial gain in the use of godly powers on planet Earth", even though the scope of an American patent is limited to its territory.
The USPTO must have had problems classifying the subject matter. It received International Patent Classification codes G06Q10/00, which is for resource management, and G06Q99/00, which is for "Subject matter not provided for in other groups of this class", that is, in date processing systems or methods. I checked to see what had happened to the patent application, and its status was given as "Abandoned -- Failure to Respond to an Office Action", the action in fact being a rejection. The "Image file wrapper" for publication 20070035812 on the official Public PAIR site makes interesting reading, and shows that the USPTO cited the Marvin Glass patent Magic game as prior art, where "the object is to amass the greatest amount of wealth in the form of simulated money." Its main drawing is shown below.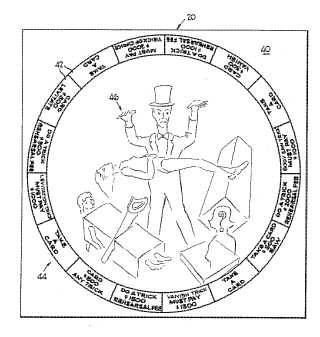 Back in 2005 Roller begain taking court action against infringers of his (pending) patent application in his Minnesota courts. 
Documents on the Web make very good reading. In 2005 the defendant's lawyers rejected his arguments in litigation against David Copperfield the magician, which was a labor dispute, although he never worked for Copperfield. In 2007 the defendants' lawyers rejected his arguments in a fresh bid against Copperfield. They said his claim "was beyond the jurisdiction of this court or any court of this Earth".
Here is a video about the Copperfield dispute.
I am not familiar with US legal procedure but it seems that Judge Jeanne Graham in her 2007 recommendation threw out the second bid, on the grounds that no patent had been issued, and therefore Copperfield could not be infringing a patent by using godly powers. So no proof of his ability was apparently required.
Roller also took legal action against James Randi, another magician (who pointed out that he had no presence in Minnesota), as well as a church. There were other defendants, apparently, including David Blaine, another magician, and the George Bush presidential administration.
According to an article in today's Metro, Roller is a former US Navy nuclear engineer. 
This is, of course, a very unusual patent application, which is probably why it has attracted attention. It was only at the end of my brief research that I found a delightful posting on the patent application by the Intellogist blog. The blogger read the entire file on the PAIRS site, and found that it includes the statement "The specification has not described how one of ordinary skill in the art could make or use the claimed godly powers." So it failed at the first hurdle: providing an adequate description.