Judge Victor Marrero has ruled against Christian Louboutin in a dispute over using a red outsole for shoes as a trade mark.
The 32 page ruling, which is quite lively and fun to read for a piece of litigation, can be read here. It dates from the 10 August in New York's Southern District.
Yves Saint Laurent (YSL) were defending themselves against a charge of trade mark infringement over this trade mark (trademark in the US), which is registered as no. 3361597: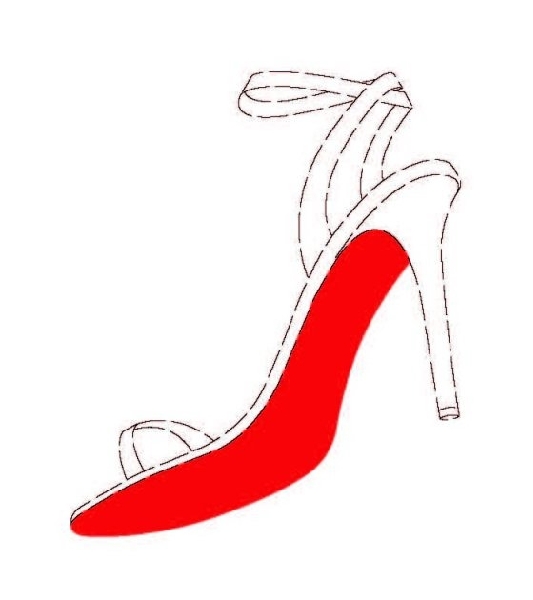 In the US details for it we are told "The color(s) red is/are claimed as a feature of the mark. The mark consists of a lacquered red sole on footwear. The dotted lines are not part of the mark but are intended only to show placement of the mark." The corresponding Community Trade Mark cites a particular pantone colour.
Louboutin said that YSL were selling almost identical shoes, and that this was an infringement of the trade mark. YSL in their defence referred to older uses of the concept such as Dorothy's ruby slippers in The Wizard of Oz.
The first fullish account I read of the dispute, in today's Metro, talked in general terms so that it sounded like a copyright or design case, for similarities of look in a product, and only near the end mentioned trade marks. Marrero rejected claims by Louboutin that they had plans to only enforce the trade mark on high-heeled shoes only and for specific shades of red.
My personal opinion is that it should never have been registered as a trade mark in the first place, as to me it is a design feature rather than a means to denote the origin of the goods.
I am indebted to Alison Frankel for her discussion of the case and her link to the judgment. She says that Counsel Bernstein for the defence had a "blast" fighting the case.
[The IPKat blog has updated on a further ruling. Ed., 7 September 2012]