Arthur Paul Pedrick (1918-1976) was an eccentric British inventor with numerous patents. Niels Stevnsborg has just had an entertaining, and well-researched, article about him published.
It appears in World patent information, December 2011, vol. 33, no. 4, pages 371-382. Pedrick -- "AP" -- was from a family of Royal Navy engineers, and he himself served as a temporary Engineer Lieutenant in World War II. From 1947 to 1961 he was a patent examiner at the UK Patent Office, and was supposedly dismissed for inefficiency.
For the rest of his life he filed patent applications on a wide variety of subjects. As far as I am aware he is the only patent examiner to have branched out into patenting in modern times (there were a few in victorian times). Although often (always ?) regarded as unworkable, and not though ever to have been put into practice, they are often on environmental themes, and ahead of their time. He regarded himself as a one-man laboratory, although sometimes assisted by his cat Ginger, with whom he has discussions in some of the patents.
The patents include GB1426698, which is both a peace-keeping nuclear device and a cat flap which admits ginger-coloured cats only, and the illustrated Process for producing hydrogen and electricity from sea river or lake water.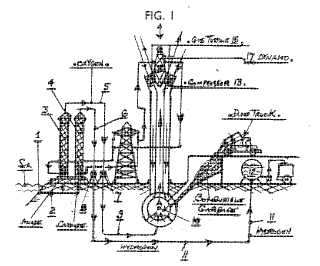 Some of AP's patents are sorted by theme by Tim Jackson. I have identified 84 British patents by Arthur Paul Pedrick and 75 British patents by A P Pedrick which makes 159 in all.
The article is a fitting tribute to a man who is famous in patent circles.