Sara Blakely, the inventor of Spanx® underwear, has quickly become a dollar billionaire -- and much of it is due to her smart use of intellectual property.
The Spanx website is fun and colourful and personal -- things I often suggest to inventors for publicising their products. Having myself grown up in the USA I immediately recognise the razmatazz. The site tells a story, and it's a good one as well.
Blakely was a sales trainer by day and a stand-up comedian at night. She dreaded wearing pantyhose as she didn't feel feminine enough in them. She researched patents to see what solutions had been devised so that you looked slimmer and didn't make it obvious that you were wearing something underneath. She then went round the attorneys, who were apparently incredulous, and decided to write the patent herself, although she did get a lawyer to write the monopoly claims.
Equally incredulous were the mill owners in North Carolina who she wanted to work with her to make the idea work. One man changed his mind after talking to his two daughters who didn't think the idea was crazy after all. It took a year to make the prototype, as she wouldn't be happy until certain that the design was comfortable to wear.
She also worked on a trade mark, and as she liked the k sounds in the Kodak and Coca Cola trade marks, and suddenly thought of Spanks, which was changed at the last minute to Spanx to make it easier to register. It was a fun name for a -- well, fun product. The packaging was designed by buying ten hosiery products and spreading the packaging across the floor. If the same thing was in all of them, it must be legal so in it went. Bright red packaging with cartoon-like images of three women wearing the product went on the front, and at the last minute a strapline was added: "Don't worry, we've got your butt covered !" Mum loved it all, apparently.
Years of relentless marketing followed, and then success. Below is the main drawing from the original patent document -- drawn by her mother and modelled by herself, she tells us. The title is A pantyhose undergarment and method for manufacturing.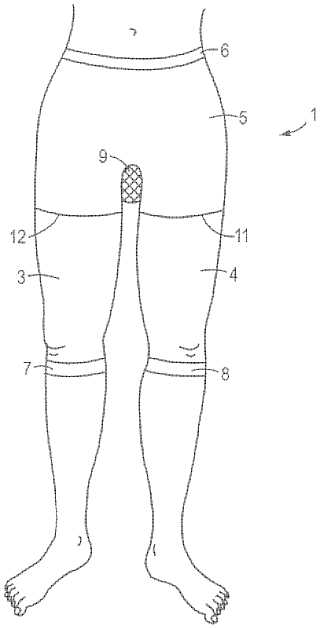 Basically the design squeezes the wearer and is footless, which is apparently vital to make it work, to give a "smooth, tight appearance when worn under clothing, without causing the user to suffer discomfort." A couple of years later there was what is presumably a refinement, Two-ply body smoothing undergarment, with Jadideah Luckham as co-inventor. These are the World patent applications.
So what did she get right ? A background in sales and comedy certainly didn't hurt, and I'm sure Blakely would be the first to say that she had a steep learning curve for a long time. She did have a good product (maybe great, I can't say I've tried it...) which met a genuine need in a large market, and surrounded it with patent and trade mark protection (she even registered her own name).
To me perhaps her best strategy was the relaxed, fun approach taken in the marketing. That, and the asset that she cared passionately about producing something that would make a difference to people's lives. Maybe not ground shaking, but users obviously appreciate it, and she hasn't done too badly herself out of it.
Blakely -- OK, Sara -- is all over Youtube, as in the delicious clip of Americana shown below.