Women for a long time wore very long skirts or dresses to conceal their ankles, and a problem with this was that clothes could drag and get soiled on the ground. Hence skirt lifters or supporters were invented, and patents are the obvious source to find material on this little corner of fashion history. I suspect that patents are much under-used for researching any aspect of social history.
There was for example Clara Shippen of Buffalo, Wyoming. In 1909 she applied for an American patent, and was told to divide her application into two, so that two patents were published, both with the title "Skirt-supporter". The drawings are rather attractive and clearly show the mechanism.
The first was US986769. The drawings page is shown below.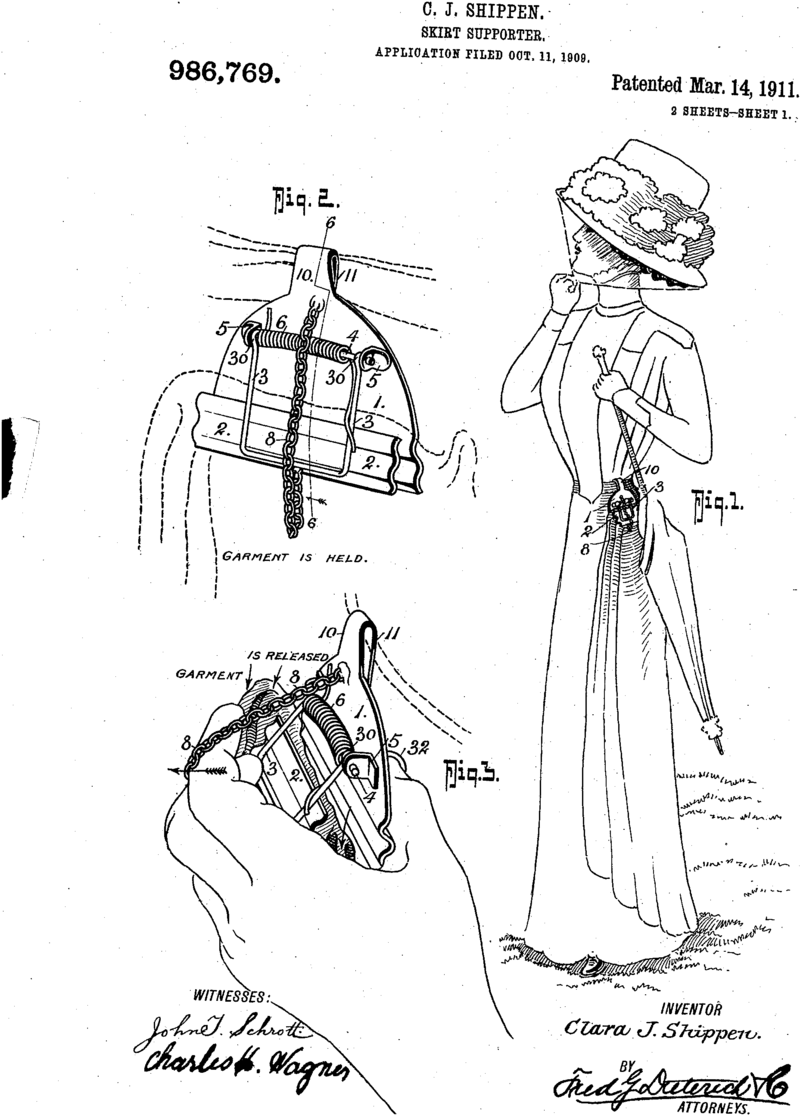 The second patent was published as US987091. A different solution, and rather a versatile one, is found in British patent 1908/15537 by Eda Nesbitt of Australia, which claims to be a "combined chest-expander, skirt and bodice retainer, and stocking-suspender". The main drawing is shown below.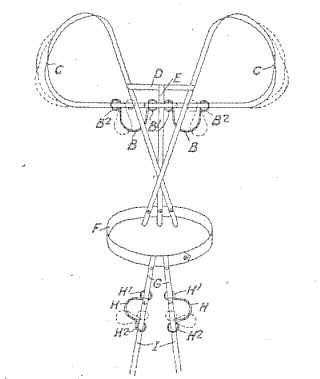 Were either of these ladies successful in making money from their inventions ? That is something that is much harder to find out, and usually there is no evidence at all. Relatively few inventions actually make money, so the answer is probably no.
Many more can be found in the free Espacenet database but a real problem is that many relevant patents are not classified by the Cooperative Patent Classification (CPC), which does have a relevant class, A41F5/00 for "trouser supports attached to the shirt, waistcoat or the like". This ought to be reworded to show it is for any garment which has to be lifted up.
That classification will find 34 British patents from 1909 and and 127 American patents from 1920. Most of the early patents, at least, are indeed for women's clothing.
A way to get around the problem is to try variant words in the title field such as "(lift or support*) and (skirt or dress)" together with say GB or US in the publication number field to limit to those countries. Dates can be limited by using e.g. 1895:1910 in the publication date field.
British patents are, with a few gaps, present on the database from 1893 while American patents, while present earlier, tend not to be included with titles to search until 1900.
There are certainly problems in this as in any research, and that is why it is always best to visit a specialist patent library to ask for their advice. The UK has a network called Patlib while in the USA there are Patent and Trademark Resource Centers.