Like the face of a loved one (not to say one's own), London changes constantly - but it's only when you look at an old photo that you realise how much.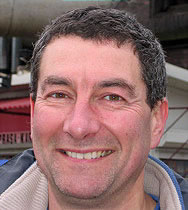 The Gherkin and the Eye are now city-defining postcard-views for instance.
But you most notice them when they don't appear - in pictures which, to your surprise, were only taken a dozen years ago. Within a few years, perhaps we'll find London views without the Shard or the 'southern Trafalgar Square' of the redeveloped Elephant and Castle quaint, austere and old fashioned.
When I saw Henry Dixon's photos of London in the 1870s during the preparation for the Points of View exhibition, this effect came to mind.
What better way to illustrate the speed and character of London's constant self-reinvention that to compare his images with their equivalents today?

The process was straightforward, but posed some unexpected problems and yielded some curious insights. First was to select a couple of dozen pictures which would make an interesting comparison with today, with at least some recognisable element linking both.
That was tricky. Most of Dixon's photos were to record buildings soon to be demolished, and they bear no relation to today's facades. Redevelopment then (for example around the Aldwych) or subsequently (for example around the Barbican following contributions from the Luftwaffe) often obliterated the old street plan comprehensively. Even where a few historic features remain unchanged – St John's Gate in Clerkenwell, St Helen's Church – the immediate surroundings have often transformed radically and unrecognisably.
But we ended with about 20 promising images.
Next came the task of finding the locations of these images, and taking new shots from exactly the same spot, as far as possible. Clues to their location came from the caption information (rarely detailed), but mostly from study of the pictures themselves. A street sign in the corner of a photo and a period street map might locate one of Dixon's snapping locations; a characteristic shop noticeable in another photo, plus a bit of internet or book research, might fix another.
With the probable locations identified, through August I cycled round London with printouts of Dixon's work and a digital camera, walking back and forth and experimenting with the zoom to get the viewpoint with the closest match.
Sometimes this wasn't easy: at various points I had to sweet-talk my way past several security guards, roam the arts section of Barbican public library, and most memorably, the climb out on the second-floor balcony of a bank on Fleet St. Goodness knows how the passers-by found the sight of a man on a bank's window ledge during the biggest recession since 1929.
One surprise was trees. There seem many more than in Dixon's day, most of them situated with irritating effectiveness at blocking the view. Being a cyclist, of course I tried to sneak bikes in to a few pictures, St Helen's Church being the best example.
And my favourite? The George Inn, Southwark, London's only surviving half-example of a medieval galleried inn. Along with the New Inn on Holborn, it's a surprise example of something that's better now than in the 1870s, thanks to restoration. The George may not quite be as well-preserved as other medieval galleried inns – such as another New Inn, a delight in the centre of Gloucester – but it's one of the most pleasant and characterful gems in London.
And the beer, surely, tastes just as good as the one Dixon must have enjoyed his own hard days of photo-documentary spadework.
Rob Ainsley