This is the fourth in a series of posts comparing photos of London taken by Henry Dixon in the 1870s and 80s with the same view today. Use our Google map to see where they were taken.
Ashburnham House stands in Little Dean's Yard, a secluded private square off picturesque Dean's Yard (pictured below) behind Westminster Abbey. It is part of Westminster School. A zoomable version of the top image is on our Online Gallery. Writing in 1880, Alfred Marks commented: "The house is supposed to have been built for one of the Ashburnham family, probably for John Asburnham, the attendant on Charles I from Oxford to the Scotch army, and from Hampton Court to the Isle of Wight. At all events it was in possession of the family at the beginning of the eighteenth century (Hatton's New View, II., 623), and so remained till 1730, when it was purchased by the Crown, of John, the third Lord and first Earl. The Cottonian Manuscripts were kept here, when in October, 1731, a fire broke out which nearly proved fatal to the entire collection."
The Cotton collection was donated to the nation and so came to the British Library. Among its most celebrated items are Beowulf and one of the four surviving copies of the 1215 issue of Magna Carta. Only just surviving though: the damage it sustained in that fire of 1731 is all too evident. Many items from Cotton's collection are are on display in the Library's John Ritblat Gallery of treasures.
The photograph beneath it shows Ashburnham House as it appeared in August 2009. The tree is the same tree; the front wall from the 1870s however - said to have been erected on the orders of the House's owner to block out the view of Westminster School's students running around in the playground - is no more.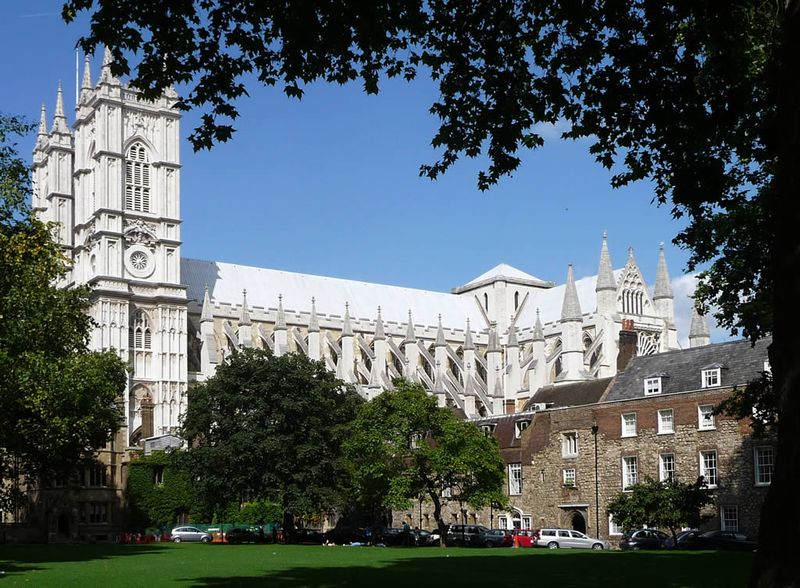 [RA]