09 March 2010
London 1870s and now - 18: Great St Helen's, Bishopsgate
This is the 18th and LAST in a series of posts comparing photos of London taken by Henry Dixon in the 1870s and 80s with the same view today.
Use our Google map to see where they were taken.
This is the church of St Helen's in Great St Helen's, a winding lane now at the centre of stupdendously vertical office-block redevelopment.
The top picture is Dixon's. A zoomable version of this image is on our Online Gallery. Writing about the photograph in 1880, Alfred Marks commented: "The view shows the south entrance of this most interesting church, and, on the left, a portion of a massive timber-built house. The inscription over the church door is Laus . Deo . St. Helena . Repd. 1633."
Below it is the same view as it appeared in August 2009. The church, reconstructed after damage from IRA bombs, is familiar, but the worshipper of the 1870s would be agape at the surroundings. Just to the right is the 180m 'Gherkin', while just to the left, at the time of the picture, was a huge building site on which another skyscraper was being built: the 288m Bishopsgate Tower, aka the Pinnacle. The photo below shows the front view of the church, dwarfed by the Gherkin.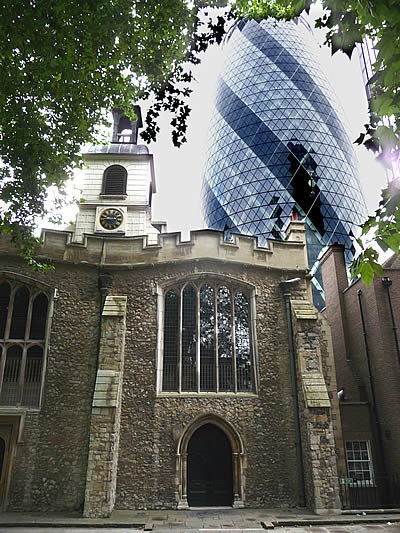 [RA]