27 March 2014
Access to Understanding Awards 2014: Everyone's a Winner
The 2014 award winners for the Access to Understanding science writing competition are revealed....
Excitement mixed with nerves in equal measure on Monday night at the British Library. The ten short-listed scientists sat in the audience at the Access to Understanding Awards 2014, waiting to hear from Sir Mark Walport, Chief Scientific Advisor to the Government, if their plain English research summary had won. But before the gold envelopes are opened and the winners announced, we reflect briefly on the competition as a whole…
Now in its second year, Access to Understanding is a science writing competition delivered by the British Library's Science Team in collaboration with Europe PubMed Central (Europe PMC). We asked entrants to write a summary of a research article so that an interested member of the public would easily understand it. Entrants were required to explain the research and why it mattered in no more than 800 words. Ten articles, freely available from Europe PMC, were selected by ten different funders for inclusion in the competition.
It's been a lot of effort all round. Effort from the 262 scientists who submitted an entry; effort from the Library's Science Team and Europe PMC funders who honed these entries down to a shortlist of 10; and effort from our fantastic Judging Panel - ably chaired by Sharmila Nebhrajani, Chief Executive of the AMRC - who had the tough decision on picking first, second and third place. This year, we introduced the People's Choice Award, which invited anyone to read the shortlisted articles online and vote for those that they liked.

So who won? Cue drum roll….and Sir Mark opening up the envelopes…
First place was awarded to Elizabeth Kirkham for her entry 'Beat box: how the brain processes rhythm', a brilliant piece explaining the brain structure involved in beat prediction. Judges awarded second place to Elizabeth McAdam for her entry 'Reforming rheumatoid arthritis treatment: a step in the right direction'. And third place was awarded to Aidan Maartens for his entry 'Populations within populations: drug resistance and malaria control'.
The People's Choice award – which received 1350 votes from the public  in less than a month - went to Lucia Aronica for her entry 'How healthy eating could starve out cancer'. Simon Denegri, Chair of INVOLVE, presented this award, noting some of the brilliant comments voters had made on the People's Choice website about all ten articles.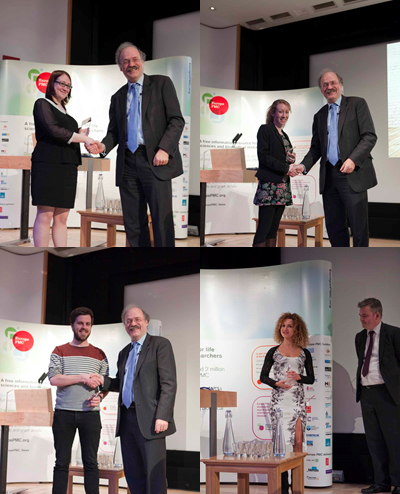 From top left clockwise: Sir Mark Walport and winner Elizabeth Kirkham; Sir Mark Walport and second place Elizabeth McAdam; People's Choice winner Lucia Aronica and Simon Denegri; Sir Mark Walport and third place Aidan Maartens
All the shortlisted articles, available in our downloadable competition booklet, provide excellent summaries of research covering blood vessel growth to neurone breakdown to novel cancer treatments. Each article also mentions the original research paper, freely available in Europe PMC.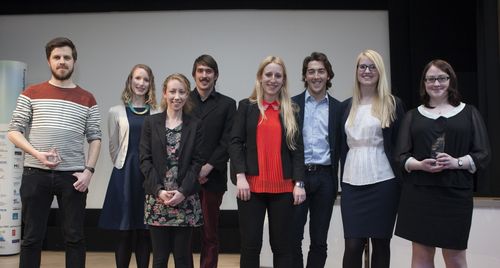 8 of the 10 shortlisted scientists: (from L to R) Aidan Maartens (3rd), Clare Finlay, Elizabeth McAdam (2nd), John Foster, Claire Sand, Christopher Waite, Helle Bogetofte, Elizabeth Kirkham (1st)
We are incredibly grateful to the Access to Understanding Judges, Europe PMC Funders, and Sir Mark Walport who helped make the night so special. We are also really pleased that the scientists who authored the original research papers and attended the evening were thrilled to see these plain English summaries of their work. 
Most of all, we were yet again astounded by the enthusiasm, talent and motivation of all the scientists who entered the competition.
Given the overwhelmingly positive public response to the People's Choice, we consider everyone a winner!
PS: Read more coverage of the evening on the Europe PMC blog: 'A night of winners!'