08 July 2015
Inspiring Careers - Part 2
Katie Howe continues a series outlining the careers advice given at 2015's Francis Crick Institute post-doctoral researchers' retreat. The first post in this series, which covers careers in pharmaceuticals, science communication and education, can be seen here.
Science policy: Beth Thompson (Wellcome Trust)
After a PhD at Cambridge University, and amid increasing concerns about the stability of the academic career path, Beth made the move into the world of science policy, starting with a temporary role at the Royal Society of Chemistry. Beth is currently a policy advisor at the Wellcome Trust where she works on a range of projects aimed at promoting a sustainable environment for biomedical science.  Beth's responsibilities include: responding to consultations; briefing the Director ahead of meetings with key policy figures (e.g. cabinet ministers) and developing and coordinating the Wellcome Trust's position with other organisations in the sector. On a day-to-day basis this involves desk research, meetings, phone calls, writing - and a lot of networking!
Although Beth pointed out that she never uses subject-specific information from her PhD or even undergraduate in her current job, the skills that she developed during her graduate studies are invaluable for her current role in policy. Written communication, project management and analytical skills are particularly important attributes for a career in science policy.
(There are several internship opportunities for PhD students wishing to get a taste of science policy. BBSRC/NERC/AHRC's policy internship scheme, which the British Library's Science Team participates in, is just one example).
Editorial: Christina Karlsson Rosenthal, Nature Cell Biology
Christina's presentation first outlined the editorial process at Nature Cell Biology. Not only did this give post-docs a glimpse of an editor's day to day work but also shed some light on the editorial process for those who submit papers to Nature journals! Journal editors like Christina might spend time: organising peer reviewers, writing paper summaries, attending editorial meetings and emailing reviewers and paper authors.
Christina held an Assistant Professorship at the Karolinska Institute before moving to Nature in 2008. Her experience in academia meant she was able to enter the editorial team at a more senior level than perhaps someone making the career move immediately after completing their PhD. Unlike Beth's career in science policy, Christina's role as an editor means she still intimately linked to her subject area. However it is now important that she has a broad overview of current topics in cell biology rather than focussing on a much narrower area as is required in academia.
Although most academic publishers are based in English-speaking countries, Christina was keen to emphasise that it is not necessary for your first language to be English if you are interested in working as an editor.
Academia: Victoria Sanz-Moreno (King's College London), Jan Lipfert (Ludwig Maximilian University of Munich), James Keeler (University of Cambridge)
Viktoria, Jan and James all gave inspiring talks on their very different experiences of the academic career path.
Jan, whose academic career has taken him from Germany to Sweden to the US and back to Germany again, shared some thoughts on the "publish or perish" culture that persists in the world of academia. He acknowledged that publications are still the main way by which your scientific ability is measured but did note that this model was slowly changing. Jan also emphasised the importance of collaborative working. His PhD supervisor advised him that "everyone in the lab should be able to present everyone else's work at a conference".
Jan was open and honest about his experiences of applying for tenure track positions and helpfully outlined some key differences between the US and European systems. Although he likened applying for faculty positions to buying a lottery ticket he sagely noted that you definitely won't get a position if you don't apply so advised developing a thick skin!
Viktoria was keen to stress the importance of having a good mentor and if possible finding a mentor in the institution where you wish to establish yourself. Like Jan Viktoria also noted the difficulties in applying for tenured research positions so advised starting planning for this process early. Viktoria also covered her experience of becoming a mother while transitioning from post-doc to PI and represented a very positive role model for women in science. 
We then heard from James Keeler who is Director of Teaching at the University of Cambridge's Department of Chemistry. James' talk title "An Unexpected Journey" was borrowed from the first instalment of J.R.R.Tolkien's The Hobbit trilogy. Bilbo Baggins says,
"It's a dangerous business going out of your door. You step into the Road, and if you don't keep your feet, there is no knowing where you might be swept off to".
This quote neatly illustrates the unexpected twists and turns that his own career took. James started out on the conventional research track but discovered an aptitude and enjoyment for teaching. James' role involves raising the profile of teaching in the department as well as wider university involvement in undergraduate recruitment and selection and academic administration. The key message of James' talk was to be flexible and agile in developing your career and to be open to different options beyond pure research.
Communication is key
As you will note from the above, communication skills are vital for many of the careers described. Whether you need to explain the concept of a hydrogen bond to a member of the public, or write a compelling grant application, describing complicated scientific concepts in a clear and understandable way is an important skill. This is something the British Library and our collaborators are keen to promote.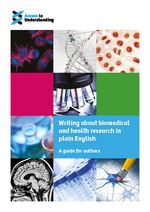 We recently launched the Access To Understanding website, which contains guidance on how to write about biomedical research in plain English. The guidance outlines some of the key reasons why you might need to (or want to) write a plain-English summary of a scientific research article, and gives some tips on how you might do so. We also run an annual science writing competition, which challenges early career researchers to write a plain-English summary of a recent scientific research article. Whether or not you enter the competition we hope you will find the website helpful in developing your communication skills.
We look forward to continuing our work with our neighbours and fellow Knowledge Quarter members the Francis Crick Institute as they look ahead to the official opening in 2016.
Katie Howe