11 July 2014
Escorting Stoller's Depart
Keen observers of British Library blogs will have noticed a profusion, perhaps that should be a peloton, of posts related to the Tour de France 2014.  In this post Jerry Jenkins, Curator for International Organisations & North American Official Publications, describes his motivation for joining the 'Tour de British Library':
On Friday last week I had the pleasure of riding my folding Brompton bike, with colleagues on a tandem, from the Library's site in Boston Spa to Selby and back again. This was our contribution to the Tour de British Library, a monumental two-day cycle by library colleagues between the British Library's twin sites at St. Pancras in London and Boston Spa, Yorkshire to celebrate Le Grand Départ of the Tour de France 2014 from Leeds.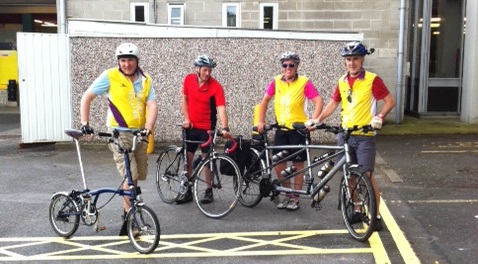 Jerry Jenkins and colleagues Roy, Lynne and Alastair preparing for their departure from Boston Spa to Selby.
When plans were drawn up to unite our London and Yorkshire sites with this two day, two-hundred mile ride to coincide with the start of the Tour de France, I was keen to take part. Aside from the obvious pleasure of going for a spin in the country, there is a good reason why this endeavour is appropriate: a large portion of the Library's collections are stored in Boston Spa.
Indeed, the 'Roswellesque' sounding Building 24, where official publications are stored, contains linear mile upon mile of shelving holding a treasure trove of information, debate, statistics, discourse, reports, pamphlets and periodicals on every conceivable subject, including a few items on cycling and bicycles.  In the daily life of the Library these publications quietly trundle back and forth to and from Boston Spa to the Reading Rooms at St Pancras in their own "petit depart".   So my excursion to join colleagues on the Tour de British Library for the final stage was, in part, homage to the collections.  The way they make their way up and down the country illustrates how the route between London and Yorkshire is well-worn with the transference of knowledge between the two British Library sites.
It was also a way of supporting other colleagues who had set off the day before from London with a copy of Douglas Cowie and Matthew Shaw's book, Stoller's Depart to Boston Spa as part of the Tour de British Library.  Stoller's Depart is an especially commissioned work to coincide with the Yorkshire Grand Depart.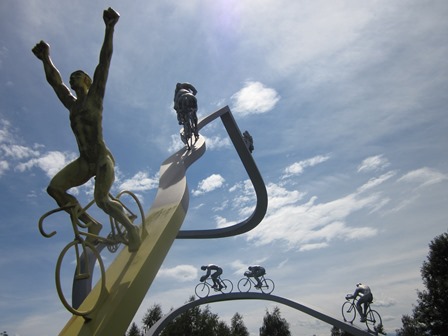 Le Tour de France dans les Pyrénées, by Jean-Bernard Métais.  Photograph by Jerry Jenkins.
To celebrate the Tour de France the Library currently has two displays of related material: The Grand Depart -Tour de Lead Graffiti at St Pancras and Le Grand Départ at Boston Spa.  Both displays can be viewed free of charge.
A resource guide to the library's holdings of Official Publications can be found here.