03 July 2014
Pedal Power
Sue Ashpitel, Business and Intellectual Property Collections Manager writes:
As some of the British Library's intrepid cyclists set off from St Pancras to Boston Spa to celebrate Le Grand Départ of the Tour de France 2014 from Leeds, we thought we should encourage them by reminding them just how much more arduous (yet strangely stylish) their trek north would have been 200 years ago at the very dawn of the bicycle age.
From our historic collection of British patent specifications we can show them coachmaker Denis Johnson's patent of 1818 for a "pedestrian curricle" (GB4321/1818).  This machine, popularly known as a Hobbyhorse, lacked pedals or any sort of driving gear and was, essentially, a sort of ride-on scooter. Intended to diminish "the labour and fatigue of persons in walking", Johnson's Hobbyhorse was closely based on the Draisienne invented a little earlier by the German Karl von Drais.
Well, pedals, tyres, brakes, a chain and some gears may be making the journey north so much easier for our colleagues than their regency counterparts but, when it comes to the clothing, we think a frock coat and top hat win the style race hands down!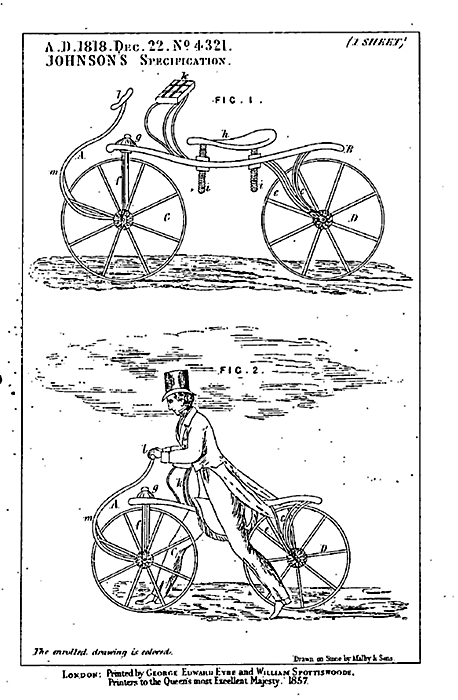 Image from Patent GB4321/1818. Johnson's specification for the Pedestrian Curricle or Velocipide
It would take another 60  or 70 years of development, hundreds of patents and a detour into the high-rise technology of the penny-farthing for the pedestrian curricle to evolve, by the late 1890s, into a bicycle familiar to today's cyclists. From this point on there was no major change in the shape and general appearance of the bicycle until the early 1960s when Alex Moulton patented his small-wheeled Moulton "F Frame" cycle (GB907467 of 1962).
To find out more about our collection of British patents you can contact our reference team in the Business & IP Centre on 020 7412 7454 or by submitting a query online.
Meanwhile, we wish our colleagues bonne route!