19 November 2015
Visual Urbanism: Locating Place in Time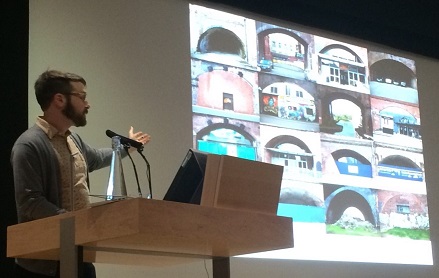 On the 29 May 2015, the British Library collaborated for the third time with the International Association of Visual Urbanists to bring together an eclectic mix of researchers and practitioners from various backgrounds, including the social sciences, geography and the arts, to think about and discuss the use of visual and multi-sensory research methods within urban research.
Presentations, films, sound art and panel discussions engaged with a fascinating range of different sites through a variety of historical moments. These included the voices of different generations of people who frequent a community-owned pub in Peckham, present-day absences in Palestine through the memories of Palestinians exiled in Poland, images of redeveloped Victorian-era railway viaducts in Manchester and experiences of Toronto via an archive of early postcard photographs.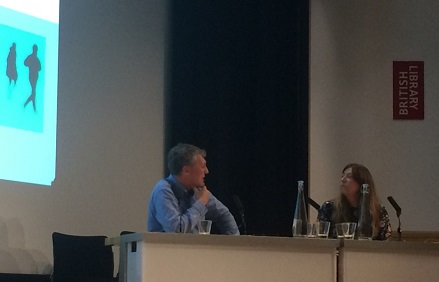 The movement of people in and out of London was told in their own words through the medium of billboards placed around the city itself, links between the Thames Estuary and South West China were explored through an archaeological art practice, visual images of Hackney Wick were read as a reflection of the movement of people in and through the East End of London and modernist utopian architecture and social ideals were connected to contemporary housing aspirations in and around London through the practice of site-writing.
Jude England, Head of Research Engagement at the British Library, talked about some of the Sound, Moving Image and Photographic collections held here at the Library as well as the UK Web Archive, an ever-growing repository for UK websites.
You can listen to a podcast of the presentations below. Please follow the links to access the films that were screened.
Introduction [00:00:11]
Jude England, The British Library
Keynote Speaker [00:14:15]
Michael Keith, COMPAS, University of Oxford
Assembling the complex city
Chair: Rachel Jones, International Association of Visual Urbanists
Panel 1: Making Sense of the Past [00:51:08]
Chair: Paul Halliday, Goldsmiths, University of London
Sarah Turner, University of Kent [00:58:03]
Public House: A spoken word/ text/ opera/ film
Phil Hatfield, The British Library [01:16:08]
Toronto by postcard: experiencing a city through historic photographs
Dominika Blachnicka-Ciacek, Goldsmiths, University of London [01:32:08]
Following, mapping and performing memories of Palestine
Panel 2: Mapping Urban Temporalities [01:49:41]
David Kendall, Goldsmiths, University of London
Brian Rosa, Queens College, City University of New York [01:51:55]
Spaces of Infrastructure, Visuality, and the Post-Industrial Imaginary
Rebecca Ross, Central Saint Martins [02:13:46]
London is Changing in Context
Rupert Griffiths, Royal Holloway and Lia Wei, School of Oriental and African
Studies [02:32:55]
Between earth, air and water: reimagining urban peripheries through
abandoned defensive architectures and rock cut burial sites.
Jane Rendell, The Bartlett, UCL [02:55:58]
May Mourn
Film Screenings
Écoute (2015) – Karla Berrens
Estuary England (2014) – Simon Robinson
The Region (2015) – Felipe Palma
Sky Lantern – Rebecca Locke
Point/Vector (2012) – Rupert Griffiths
Gone but Not Forgotten (2015) – David Kendall
Panoramas of Time: Kaleidoscope 2 (2015) – Rachel Sarah Jones
Edifices of Separation (2012) – Tomo Usada