06 April 2014
Sound & Vision # 3: Marika Samek
Over the past couple of months Graphic Media Design students from the London College of Communication have been producing coursework inspired by sounds from the British Library collection. The students were given their pick of recordings from the http://sounds.bl.uk site, and asked to produce graphical works in whatever form inspired them, for a project we called (logically enough) 'Sound & Vision'. Some of the students' work is being featured on this blog over two weeks.
Our third student is Marika Samek. Her piece entitled Awaken was inspired by wildlife sound recordings of her native Poland.
When listening to the sound materials at the British Library Sound Archive I was strongly drawn to the nature and life sounds. Listening to those sounds, I found myself revisiting some of the places I have been to and remember from my childhood. The sound I selected for this project was recorded in 2001 by Ian Todd. I chose this specific sound as it represents the sound of woodland; the dominant sound is the call (song) of the thrush nightingale, we can also recognise the sound of other birds, wind and all sorts of tree movement in a beautiful forest, near my hometown. I have visited this area many times in my past.
Thrush nightingale at woodland edge next to the lake (2001)
 The idea for Awaken come not only from the sound but also from pictures of this beautiful place, and the emotions and memories they bring back from childhood. Awaken examines subjects of light, movement, shadow, rhythm, structure. The aim of this installation is to transform the organic, clear form of wood and translucent film applied on acrylic into a shimmering world of light, shadow, and brilliant colour. It is a metaphor for how Sound - something assumedly invisible - an integrate with other senses and create beautiful Vision in the form of a vibrant picture.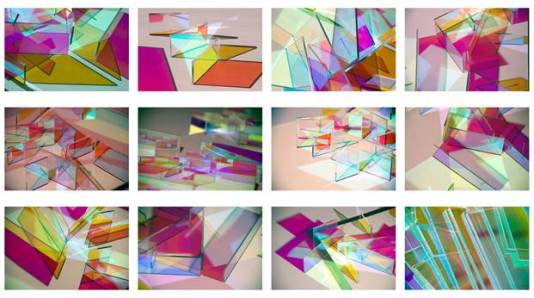 I like the idea of Awaken being a unique art piece, as each viewer will experience it differently depending upon the time of day, ratio of natural to artificial light, precise angle of viewing, and even the number of people in the gallery. It is even possible for two people to stand next to one another and each have a completely different experience of the dynamic presence of light.

I titled my work Awaken, as that is the feeling I get every time I observe it. It is a dynamic piece, representing energy and movement yet it also bring happiness and peace from contemplation, making us feel alive and awake.

You can see more of my work at www.marikasamek.eu.
Marika Samek