24 October 2014
Inspired by Flickr: Earth
A couple of weeks ago we featured the first in a four part series of sound pieces, created by French sound artist and composer Stéphane Marin, which have been inspired by the British Library's online collection of over one million 17th, 18th & 19th Century images. Focusing on the four classical elements of air, earth, fire and water, we launched the series with a field recording-based piece inspired by meteorological charts included in the 1886 monograph 'Our Knowledge of the Earth: general geography and regional studies'. This week, we move from air to earth.
Part 2 - Inspired by Earth
"Almost always the word 'hard' is the opportunity of a force (...)
It's a word that cannot go quietly into things. "
G. Bachelard - Earth and Reveries of Will.
At all times the Earth shook.
Whether one is scared about the earth giving way under our feet,
It releasing sheaves of fire, lava flows,
Or the sky over our heads collapsing,
Always the Earth trembled.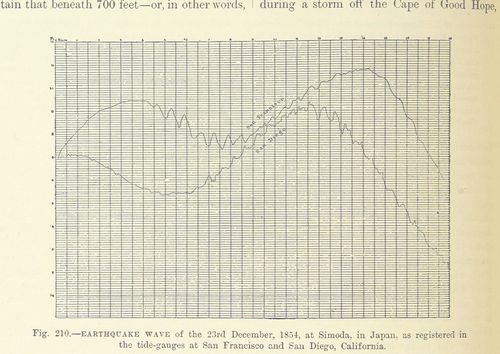 At all times the Earth shook.
Whether the Spider, the Cosmic Dragon-Snake or the Giant Catfish are wrestling,
Whether the Divine Anger strikes us with stupor,
Or whether a simple tectonic breathing hiccups the surface of Mother Earth:
At all times the earth shook ...
And we (all) tremble with her ...
or not!?.
"Wait, from afar the hardest warns that which is hard .
Woe - absent hammer prepares to strike! "
Rilke, Sonnets to Orpheus, (12)

Rhythmic fear, hiccupping, syncopated;
Dynamic fear that in its excess becomes communicative;
Alarming fear to stay protected!
Being fearful, scared, or terrorized, is one thing.
Remain transfixed, petrified or numbed ... is another ...
Faced with any threats,
Even prey to our scariest Demons
Keep in mind the Gnome's lesson
This lesson about sur-vival
"remain mobile ...
communicate! "
A bunny in its hutch.
The image that inspired  Marin comes from the 1893 publication 'Our Earth and its Story: a popular treatise on physical geography vol 2' by Dr Robert Brown. The first volume, published a few years earlier in 1888, had been received with great acclaim and Brown was specifically praised in The Spectator for his "highly successful method of polularising science". The Brian Cox of his day, perhaps.
The image itself shows the strength of the Tökai earthquake that hit southeastern Japan on the 23rd December 1854, measured by monitoring sea level fluctuations off the coast of California. The earthquake was the first of three major quakes to strike Japan between 1854-1855, a series that was to become known as the Ansei Great Earthquakes. But what is the source of rumbling heard in Marin's piece 'The Quaker'? Is it seismic activity or something else? I'll leave it to you to decide.
----------------------------------------------------------------------------
Following many collaborations with street art companies (Allegro Barbaro / Le Phun / Osmosis Cie / 2ème Groupe d'Intervention / Décor Sonore) on projects performed in the six corners of the French hexagon, and in international festivals held in cities such as Suwon, Beirut, Poznan, Grätz, Valladolid, Manchester and Saarbrüken, Stéphane Marin created Espaces Sonores in 2008, a company dedicated to contextual sound creation and sound art. His work includes An Umbrella for 2 - audio walks to be shared by two people under an umbrella which was created for the Saint Charles train station in Marseille (Lieux Publics - Street Arts Creation National Center) and the streets and underpasses of Singapore (Singapore Arts Festival - National Arts Council), Elementaire - an ecological soundscape for relaxing sound naps ; ÉcoutesS d'EspaceS / EspaceS D'écouteS sound walks, sessions of yoga for your ears and finally contributions to events that help others rediscover the pleasures of phonography  (Mingalabar ! - Arte Radio - Paris / L'Oreille Nomade #1 - Myanmar - Kinokophonography @ New York Public Library for Performing Arts).