08 April 2014
Opening day
On Monday 7 April 2014, at 10:00, the Newsroom opened at the British Library. We were just about ready. I don't know what it is about we humans, but with all the months, indeed years, of planning that went into developing a new reading room for news at the British Library, we were working right up to the last minute getting the last fixtures and fittings in place. Was it true, as I heard, that they only hung the Newsroom sign up above the door with not much more than an hour to spare? The first punters didn't notice any such final hammering or tweaking. They queued patiently outside, though our first researcher actually managed to come into the Newsroom via a side entrance, which we hadn't expected. Those who came in through the front door gawped briefly at the newness before them, then made their way to the desks. "Bloody hell", said one. Which was nice.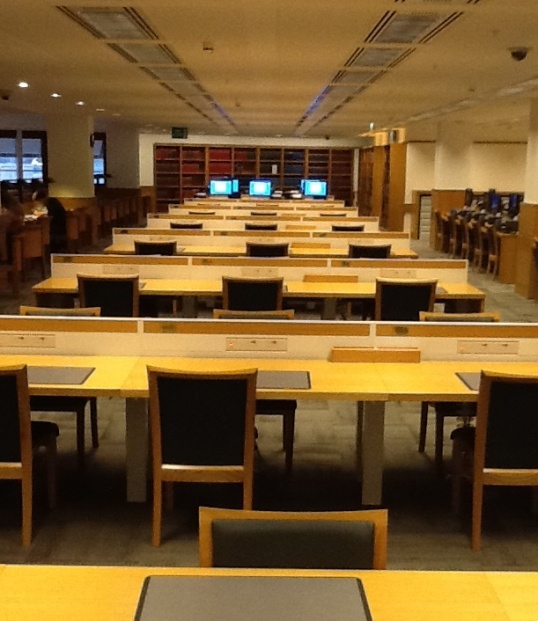 View down the Newsroom
The Newsroom is the British Library's news reading room for its news collections. It replaces what was the Newspaper Library at Colindale, though the print newspapers themselves are being transferred to dedicated storage facilities at Boston Spa in Yorkshire. They will become available to order once more in the Autumn, so the Newsroom at present offers access to microfilm and digital newspapers, as well as television, radio and web news.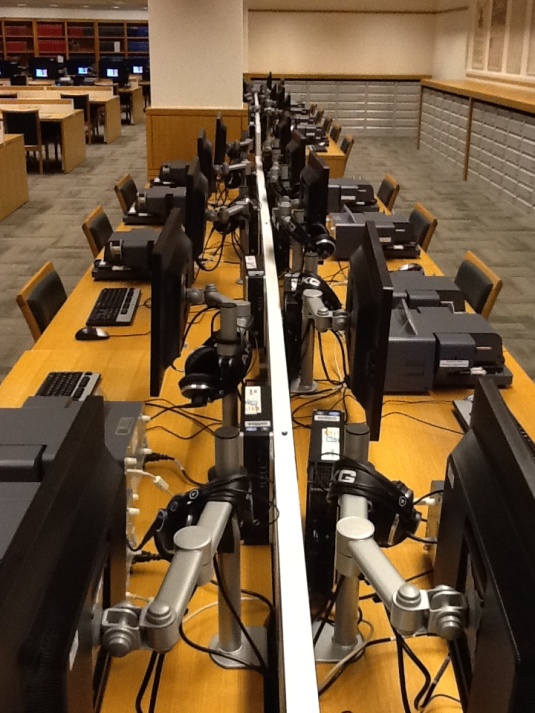 Row of terminals with microfilm readers
The Newsroom seats around 100, with 40 microfilm readers with digital display and monitors that can be turned landscape or portrait depending on how you wish to view your newspaper.  There is a large number of newspaper microfilm reels available on open access, while the remainder can be ordered from our basements with a promised maximum delivery time of 70 minutes. There are also many news media reference books available on the open shelves, photocopying facilities, and of course our expert reference team, who quietly introduced researchers to the news resources, the intricacies of the microfilm readers, and the other particulars of the Newsroom.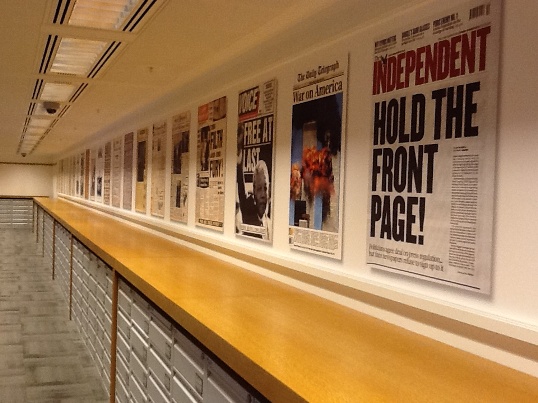 Newspaper front pages display
We wanted to made the Newsroom a visually striking and newsy place, while ensuring that it remain first and foremost a place for study. A striking feature is the row of 21 newspaper from pages, from 1643 to 2013, which decorate the length of one wall above the microfilm cabinets. The display works both as a history of newspaper design and of history in the making as reflected through newspapers.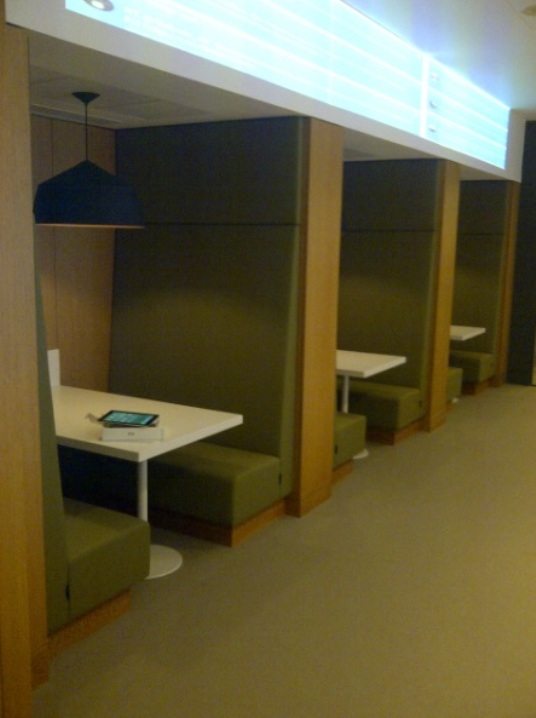 Cubicles in the networking areas, with Twitter display above
Some of the most eye-catching features are in the networking area, which is the first part of the Newsroom that you see when you enter. It's an area that's open to anyone (you only require a reader's pass to enter the main reading room) and it is meant to be both an informal space and an area in which to display news present and past. There are tables, chairs and sofas liberally scattered about (with plenty of charging points, which we suspect will make the space very popular very quickly). On one side is a row of cubicles, with above it Twitter feeds which show the news coming in as it is tweeted from news web sites that we archive. So, in a way, you see the news being made, and the news being saved.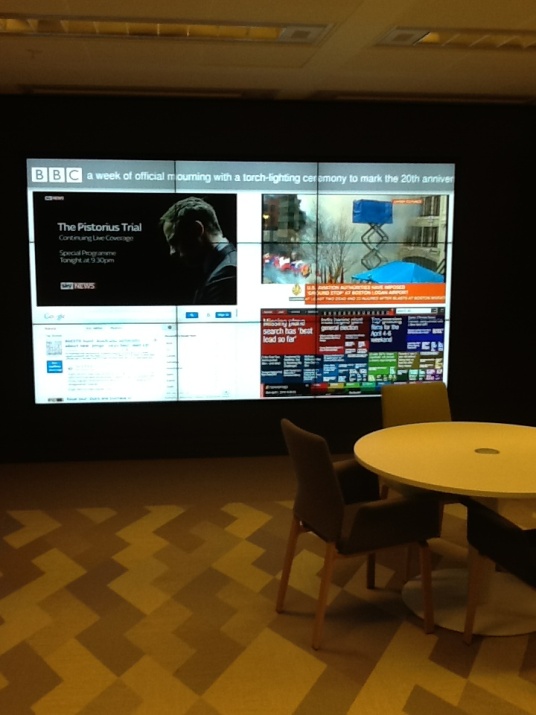 The video wall
The live news element is also seen in the networking area's most striking feature, the video wall, which occupies a large part of one side of the space. We plan to have different kinds of display on its multiple screens in due course, but we have started with a BBC news ticker feed, live TV news from Sky News, archive videos from our Broadcast News service, a loop of front pages for news-based websites that we will be archiving, and a display of the ingenious Newsmap news aggregator site, developed by Marcos Weskamp, which shows news stories around the world in a grid format, classified by territory, place and importance.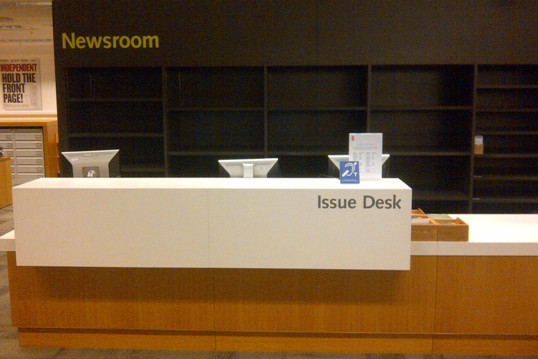 Issue desk
The networking area and main reading room filled up gratifying quickly over the day, though it is Easter time when the British Library is always particularly busy, and a lot of the desks were occupied by overspill from other reading rooms. But that's fine. The Newsroom is not an ivory castle for news. We're interested in seeing the boundaries blurred between what gets researched where, just as we are looking beyond newspapers to incorporate other forms of news publication, to create a richer, more interconnected archive.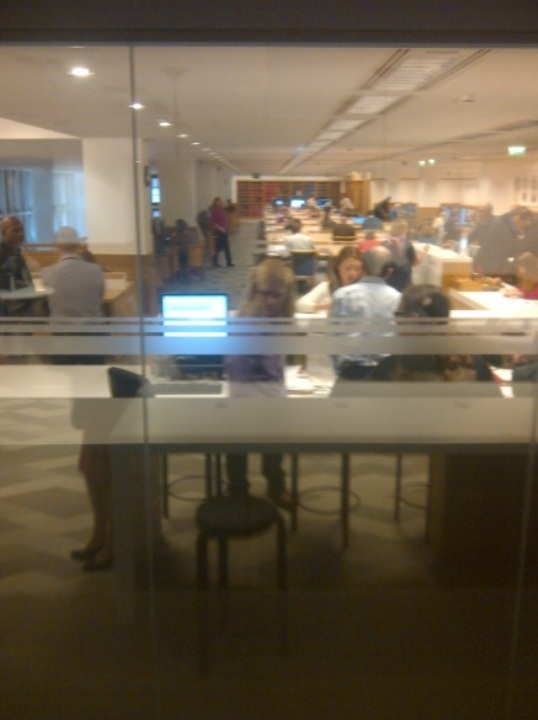 View down the Newsroom through the glass partition between networking area and main reading room
There was much else besides on that first day - British Library colleagues coming to admire, familiar faces from Colindale days settling down to continue their work once more, much tweeting of images and updates, some fretful pulling out of hair when the live video stream failed for a while, some careful explanation to visitors that the footage of rioting in Tottenham was an archive recording from 2011 and did not mean what they thought it meant... I held my first meeting there, charged up my computer there, and drank the first cup of coffee there (in the networking area, I hasten to add, not the reading room itself, which would not be allowed). And we launched a new set of web pages for news media (we have to call it that to avoid confusion with news about the British Library).
We hope we may see you there soon. We're on the second floor.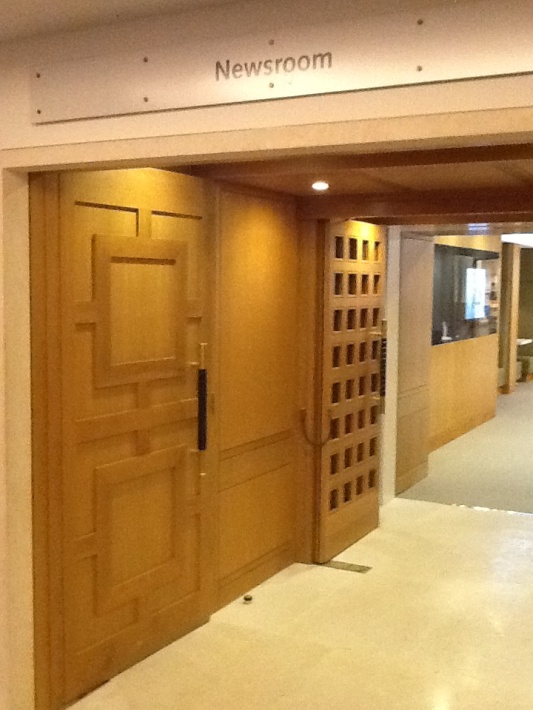 Welcome