18 June 2014
Broadcast news
Newspapers form the greater part of the British Library's news collections, by far, but they are not all that we have. Since May 2010 we have been recording television and radio news programmes broadcast in the UK, and now take in 60 hours of programmes per day, every day, from 22 channels, made available through our onsite Broadcast News service. We're just about to record our 50,000th news programme. This post is a guide to finding and using television and radio news programmes at the British Library.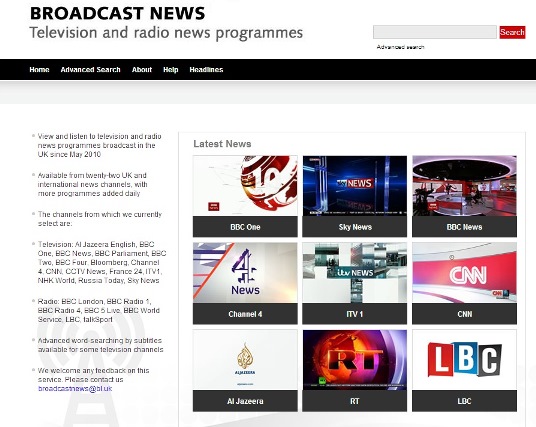 Broadcast News 
What we record
The first official Broadcast News recording was made at 10pm, 6 May 2010. It was the day of the UK General Election, and as soon as the polls closed we flicked on the switches and started recording the election night coverage of BBC1, ITV1, Channel 4 and BBC Radio 4. After a cautious start, we raised the number of recordings we made per day in 2011, and today we record from 22 television and radio channels which are free-to-air in the UK (via Freeview or Freesat), approxumately 40 hours of television and 20 hours of radio.
We don't record every news programme broadcast in the UK, partly because of the large amount of repetition that is inevitable with 24-hours news channels. Instead we record roughly 13% of what is broadcast. These are the channels from which we record, with some of the key news programmes from each channel that we always cover.
Television:
Al Jazeera English - News Hour, The Stream, Listening Post
BBC One - Breakfast, News at Six, News at Ten, Andrew Marr Show 
BBC News - HARDtalk, morning and afternoon news programmes, The Papers
BBC Parliament - ... in Parliament late night summary programme
BBC Two - Daily Politics, Sunday Politics, Newsnight
BBC Four - World News Today
Bloomberg - The Pulse, Asia Edge, Charlie Rose
CCTV News - China 24, News Hour, Africa Live
Channel 4 - Channel 4 News
CNN - CNN Newsroom, International Desk
France 24 - News & Magazines
ITV1 - Good Morning Britain, ITV News at Six, ITV News at Ten
NHK World - Newsline, Asia This Week
RT - Headline News, The Big Picture with Thom Hartmann, Keiser Report, Sputnik with George Galloway
Sky News - Sunrise, Sky News at 6, Sky News at 10, Press Review, Murnaghan
Radio:
BBC London - The Breakfast Show, Dotun Adebayo
BBC Radio 1 - Newsbeat
BBC Radio 4 - Today, PM, the World Tonight, News and Weather, The World This Weekend, Westminster Hour, Broadcasting House, Any Questions?/Any Answers?
BBC 5 Live - 5 Live Breakfast, 5 Live Drive
BBC World Service - Newshour, The Newsroom, From Our Own Correspondent
LBC 97.3 - The Morning News, Nick Ferrari, Ken Livingstone & David Mellor, Kay Burley With Stig Abell
talkSport - Drive Time - Adrian Durham & Darren Gough
We try to record the same news programmes each day, as researchers often want to follow how a story was reported through the one outlet over a period of time. But programmes come and go, and we keep our eye out for new news series as they emerge. We can't capture everything, but we hope to achieve a good mix of the ordinary and the extraordinary.
Where there major news stories which break through the usual news schedules, we record these usually for a 24-hour period, and across at least two channels. So we have thorough, multi-channel records of such news stories as the UK riots of 2011, the death of Osama Bin Laden, the Japanese tsunami and Fukushima nuclear disaster, and the death of Nelson Mandela.
How to use Broadcast News
The Broadcast News service can only be used in the British Library's reading rooms, including the Newsroom. This is because we have to respect the copyright held in these programmes, so we do not make them available online. Within a reading room environment, we can offer the entire collection on an instant access basis, with most programmes being there to view within a few hours of broadcast. So if you come to the Newsroom to do some research say around 11:00am, the news programmes from that morning will be there waiting for you.
Basic catalogue records for our TV and radio news programmes can be found on Explore (type in the name of a news programme and refine the searching by Material type / Moving Image) or the Sound and Moving Image catalogue, though such records are not fully up-to-date as yet.
To access Broadcast News, all you need to do is to go to any British Library terminal (at our St Pancras or Boston Spa sites), and click on the Sound and Moving image link on the welcome page. This will take you to the page illustrated below, with links to Broadcast News and other sound and moving image services that we provide onsite.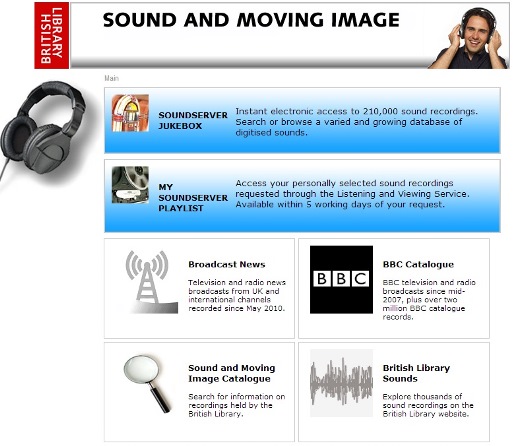 Sound and Moving Image page
Click on Broadcast News, and this will take you to the front page shown at the top of this post. There are then three ways of searching the collection. You can click on one of the images on the front page and that will take you to the latest programmes from nine of the most popular channels. You can use the search box at the top of the screen to search under any word or programme title. Or you can use Advanced Search to narrow searches down by channel or date.
The search results page looks like this: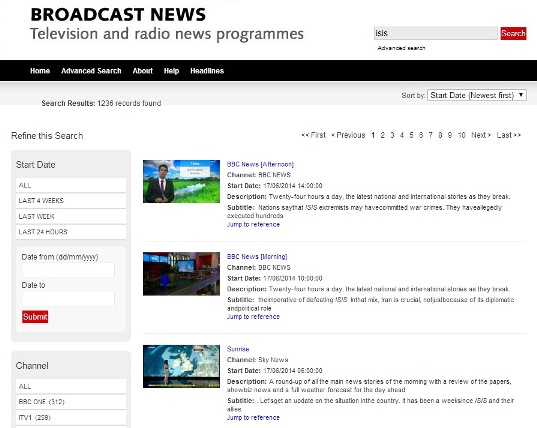 Broadcast News search results page
Click on any one of these records and this will take you to the full programme playback page, or use the filter options on the left-hand side to refine the results by date, channel or medium (i.e. TV or radio).
Broadcast News is dependent on the Electronic Programme Guide (EPG) for its catalogue data. EPG data gives you the channel, date, title and time of a programme, but for news programmes it usually only gives a generic description (e.g. "A round-up of the main news stories of the morning..."). This isn't too useful for someone looking for a particular subject, but happily we are able to capture the subtitles for 50% of the television programmes that we record - for BBC, ITV, Channel 4 and Sky News (other news channels such as CNN and Al Jazeera English do not come with subtitles). This makes many of our programmes fully word-searchable, greatly increasing their value to researchers.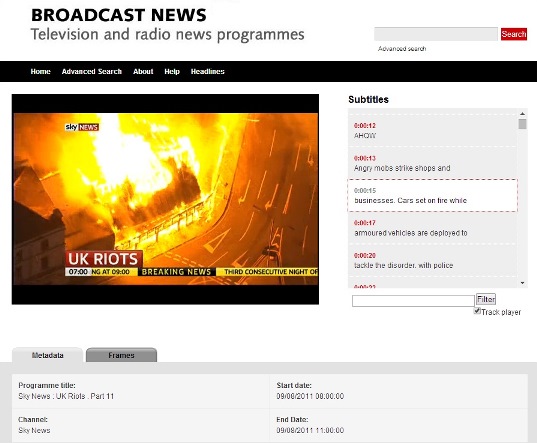 Sky News coverage of the UK riots, 9 August 2011, with subtitles on the right-hand side
The subtitles play alongside the video, rather than as part of it. It is possible to search for a word within the subtitles (use the 'filter' option) or to scroll through the subtitles while the video is playing. If you click on any subtitle, you will be taken to that place in the video. We also capture still images from the broadcasts, one every five seconds. If you go to the Frames option on the playback page, you will see them all, which therefore enable you to browse through a programme by its imagery. Click on any such image, and again you will be taken to that place in the video.
There is much more that we want to do to improve Broadcast News, by making those programmes without subtitles (and radio programmes of course) word-searchable as well, for which we have been investigating speech-to-text technologies. We also want to improve discovery by pointing researchers to individual stories within a news programme. Such developments will take time, however.
Why broadcast news?
And why is the British Library recording television news programmes? Because they are uniquely informative about the world today. Because television news has the highest use and greatest influence of all the news media in the UK, as many polls have demonstrated. Because newspapers can no longer be considered in isolation as a news publication. Because researchers have had huge difficulties in the past gaining access to television news programmes en masse. And because television news affects how we see the world in a profound way, one that commands respect but also demands the sort of intelligent analysis that scholarly research exists to provide. 
Finding out more