Indian princess in suffragette march
Today's blog marks the 'Black Friday' suffragette march and the launch of a new British Library website telling the story of Asians in Britain.
Princess Sophia Duleep Singh, daughter of Maharaja Duleep Singh, was a prominent suffragette and member of the Women's Social and Political Union. She campaigned for votes for women nationally and locally in Kingston and Richmond, where she regularly spoke at branch meetings. On 18 November 1910, known as 'Black Friday', together with Emmeline Pankhurst, Sophia led a 400-strong demonstration to parliament. Clashes broke out between the police and protesters and over 150 women were physically assaulted.
Sophia Duleep Singh selling The Suffragette outside Hampton Court Palace. The Suffragette, 1913 (1913 LON 515 [1913] NPL)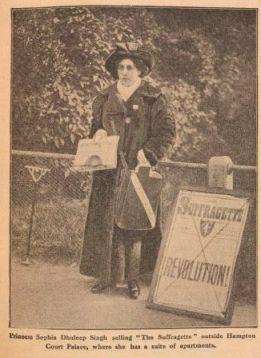 Sophia took part in many publicity campaigns and was often seen selling the newspaper The Suffragette outside Hampton Court Palace where she and her sisters were given free use of Faraday House in the grounds of the palace.  Her activities raised concerns in some quarters as seen in a letter to Lord Crewe, which asks 'if anything could be done to stop her' and whether the King should consider evicting her from her lodging. Sophia also belonged to the Women's Tax Resistance League, whose slogan was 'No Vote, No Tax'. Her refusal to pay taxes led to her prosecution several times, and some of her valuable possessions, such as a diamond ring, pearl necklace and gold bangle were impounded.
In addition to her suffragette activity, during World War I she organised collections for Indian soldiers fighting on the Western Front during World War I. She also donated money towards the Lascar Club in the East End of London.
 Sophia was not the only Indian suffragette. Other Indian women too campaigned for the right to vote. For instance, a small delegation took part in the 1911 coronation procession of 60,000 suffragettes.
Text supplied by Rozina Visram
Advisor to the 'Making Britain' project from 2007-2010, consultant on the follow-on project, 'Beyond the Frame' and author of the British Library's web pages for researchers interested in the history of Asians in Britain.
A ground-breaking facsimile exhibition, part of a larger project, Beyond the Frame: Indian British Connections, takes a new look at the little-known history of the Indian presence in Britain, and will tour India from 25 November at the British Council and from 26 November at the National Archives of India in Delhi.