Hand Grenade Throwing as a College Sport
Goblinproofing One's Chicken Coop has just won a prize for the Oddest Book Title of the Year. Curator Andy Simons tells us of other strange book titles lurking in the British Library collections.
There has long been a quasi-sport, in the manner of train spotting, to note down an absurd printed title.  As one who's charged with filling in the Library's gaps in its modern UK holdings, I have the privilege of being introduced to many.
While Cats in the Belfry sold through several editions since 1957, most oddly-titled works about four-legged friends end up on almost no one's shelf.  Sacha Carnegie: Pigs I Have Known (1958) and Badgers without Bias : An Objective Look at the Controversy about Tuberculosis in Badgers and Cattle (1981) hopefully each found their keen crowds. 
While we appreciate a witty front cover, such as Alexander Payne & James Zemaitis' The Coffee Table Coffee Table Book (2003), the best ones trip out the front door with laces untied.  Hence, the Association of Maternity & Child Welfare Centres' Dangerous Dirty Deadly Dummy (c.1929) and VE Louis' A Motorist's Guide to the Soviet Union (1967). 
Book titles can also be the focus of literary hoaxes. After inviting radio listeners to suggest the theme, plot, title and author of a book that didn't already exist, Manhattan's WOR-AM radio presenter Jean Shepherd became amused when his listeners took delight in badgering bookshops to stock it.  Thus, Mr Shepherd co-wrote the non-existent Frederick R. Ewing's I, Libertine (1957).  This is the gentle sort of hoax that enriches publishing history.
But I must shamefully admit that, due to an incautious moment, I incurred a wound on the battlefield of librarianship, a minor scratch really, having fallen hard on a fictitious war casualty.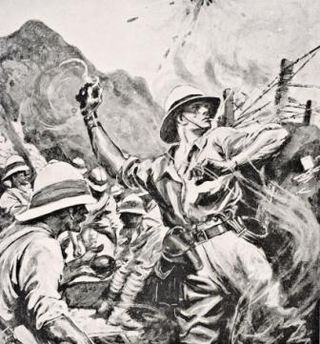 Lt William Thomas Forshaw VC hurled hand grenades at the enemy for forty one hours August 1915 during an action at Gallipoli. © UIG/The British Library Board  Images Online
While Hoovering-up deserving digitisation candidates for a scanning project about the Great War, Lewis Omer's Hand Grenade Throwing as a College Sport stumbled into my path and I felt duty-bound to rescue it for posterity.  According to the British Library's catalogue, this would-be Title of the Decade Winner was published in both New York and Chicago by Spalding & Bros, an actual manufacturer of Stateside sporting equipment.  Further, it was just nine printed pages, published in 1918, and destroyed during aerial bombing in the Second World War.
Although the smoke was but a wisp, my inner voice should have yelled "Fire!" The Library of Congress haven't got the booklet and, trust me, it shows up in no other repository.  A certain Mr Lewis Omer wrote a mathematical thesis for his University of Illinois degree in 1902.  And in 1940, one Lewis S. Omer (b. 1873) wrote what appears to be his life story as General Freight Traffic Manager on the Baltimore & Ohio Railroad. But it's likely that neither of these are the same Lewis Omer.
Frances Wood, curator of Chinese materials at the British Library, wrote Hand-Grenade Practice in Peking : My Part in the Cultural Revolution (2000, 2011), but although her amusing account does reference the proper tossing of explosives, the book's title is as real as it is amusing.  Despite having a catalogue entry, the arm-wielding of ordnance won't be part of a degree qualification or be an Olympics event any time soon.
Andy Simons, Printed Historical Sources