What happens when you let a Rajah escape?
On the night of 12-13 May 1818, the 22nd Regiment of Native Infantry was tasked with guarding a prisoner. Appa Sahib, ex-Rajah of Nagpore was not an ordinary prisoner and clear orders were given to check on him every hour and look at his face to make sure he was not a fake.

Soldier Sirdar Singh probably remembered that night for the rest of his life. He faced a court-martial on 29 November 1819 for having 'suffered the said Appa Sahib to escape' between the hours of 10pm and 11pm whilst posted as sentry. Sirdar Singh made no defence and was sentenced to death.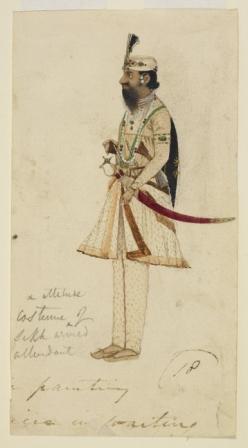 BL, Add.Or.3171 Sikh sardar, probably Raja Suchet Singh (1801-44) by a Lahore or Amritsar artist, c.1837. Images Online 

His commanding officer Subadar D,heep Chund was also tried for the same incident. D,heep Chund was in charge of the guard and he bore the responsibility for Appa Sahib's escape. The charges paint a picture of a conspiracy between the Rajah and the Subadar, who changed the guards only every three hours, instead of every hour.  D,heep Chund also prohibited the non-commissioned officer who mounted guard at 1am from going into the tent to check the prisoner's identity. He was found guilty of conniving at the escape and of delaying its discovery. The court passed sentenced him:
To be dismissed the service, to have his sash burnt, and his sword broke over his head, in front of the troops of the station; after which to have a halter tied round his neck, and to be drummed out of cantonments.

It was clear that Sirdar Singh had acted under the influence of his officer and the Commander-in-Chief could not 'bring himself to order the infliction of the death upon the prisoner, when a lighter judgment has been passed upon D,heep Chund'. The death sentence was commuted to three years labour in irons on the roads.

Dorota Walker
Reference Specialist, Asian and African Studies    




Further reading:
Captain Hough, The practice of courts-martial (London, 1825) pp.486-487.