Aw! how I ded long for a tatie pasty!
Poverty forced nearly one in five of the Cornish population to emigrate in the second half of the 19th century. Some of the earliest to leave were the tin miners who headed for California's Sierra Nevada, where rich seams of gold had recently been found. Some made their fortune and returned to Cornwall, and it is the adventures of one these returnees that is the subject of 'California', a short story by John Tabois Tregellas (1792-1863).
Cover of California and Hacky & Mark, two Cornish tales by J T Tregellas
Tregellas was a businessman with a keen interest in the varieties of English spoken in Cornwall. His dozen or so publications are invariably peppered with Cornish words and spellings that attempt to capture local pronunciation. 'California', published with an accompanying poem in 1860, is typical in that it uses dialect for reported speech with unfamiliar terms translated into standard English as footnotes. But the subject of this particular story is as enlightening as the linguistics. The story begins with Tregallas meeting a certain Isaac, who recounts his recent exploits in California where he had been working the gold mines with his brother Tom. Isaac had had a fair amount of luck there, or "a good many good little sturts" as he expresses it. Life was rough though: their house was little more than a cow-house and they had to survive on maggoty bread, "ratten stinking biskies [biscuits], and such sour belly-vengeance beer". When there was no beer, they drank the same water that had been used to wash the gold dust. When asked whether there were any Cornish pasties, Isaac replies "Aw! how I ded long for a tatie pasty; I'd a gov the laergest nugget I had, for a tatie pasty" (Oh! how I did long for a potato pasty; I'd have given the largest [gold] nugget I had, for a potato pasty).
     Beginning of the story 'California'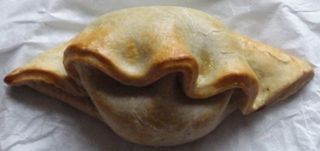 In the story, Isaac returns to Cornwall but many followed his brother's example and settled in the area around the Sierra Nevada gold mines. The small California town of Grass Valley in Nevada County continues to celebrate its Cornish heritage in a big way. They hold traditional Cornish Christmas events throughout November and December, and if Isaac were able to return there today, he'd find Marshall's Pasties, Cousin Jack's Pasties and several other cafés serving his longed for taste of home.


Adrian Edwards
Printed Historical Sources 

Further reading:
John Tabois Tregellas, California and Hacky & Mark, two Cornish tales (Truro: James R. Netherton, 1860). BL shelfmark: 12622.aa.11.
David J. Noth, Studies in Anglo-Cornish phonology: aspects of the history and geography of English pronunciation in Cornwall (Redruth: Institute of Cornish Studies, 1984). BL shelfmark: X.525/9424.
Shirley Ewart, Cornish mining families of Grass Valley, California (New York: AMS Press, 1989). BL shelfmark: YC.1990.b.7210.
David Allan Comstock, Gold diggers and camp followers, 1845-1851 (Grass Valley: Comstock Bonanza Press, 1982). BL shelfmark: X.800/42627.
Greater Grass Valley Chamber of Commerce, Nevada County Visitor's Guide 2012-2013.
Empire Mine State Historic Park.