Launch of Qatar Digital Library
A new online portal in English and Arabic providing access to previously undigitised British Library archive materials relating to Persian Gulf history and Arabic science was launched by the British Library Qatar Foundation Partnership today (22 October).
The new portal, hosted by Qatar National Library, is called Qatar Digital Library. It provides contextual material to help make the best use of the 500,000 digitised pages available. This includes 475,000 pages from the India Office Records and 25,000 pages of Arabic medieval manuscripts.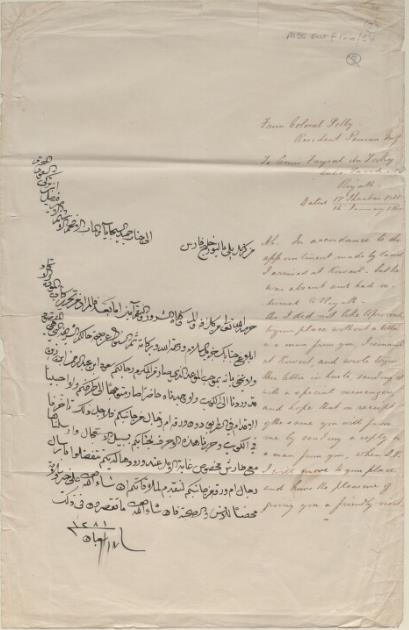 Letter from Colonel Lewis Pelly, Resident Persian Gulf to Amir Faysul ibn Torky aul Saood [Amir Faisul ibn Turki al Sa'ud], Riyath [Riyadh], 16 January 1865. Mss Eur F126/56    

The modern history and culture of the Gulf and wider region, particularly its connection with Britain, are vividly documented in personal and official archives, photographs, maps and recordings of traditional music held at the British Library. Insights into the history of science in the Arabic-speaking world and Arabic cultural heritage are also held in the depths of the Library.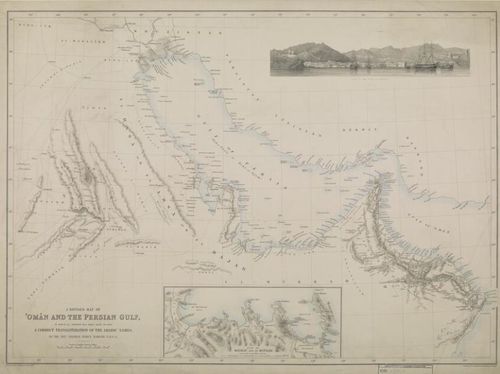 A revised map of Omân and the Persian Gulf, in which an attempt has been made to give a correct transliteration of the Arabic names, Rev. George Percy Badger, 1871. IOR/X/3210  

The British Library has been working in partnership with the Qatar Foundation and Qatar National Library over the last three years to develop this portal. During the last year, curators have been releasing snippets of the stories contained in the files on numerous posts on the Untold Lives blog.
The launch of Qatar Digital Library will be celebrated with a small event at the British Library, where academics and researchers will reflect on the importance of the new resource as a tool to expand and improve our understanding of the Gulf region.
During the event Dr James Onley, Senior Lecturer in Middle Eastern History at Exeter University and Editor of Journal of Arabian Studies, will deliver a key note speech and two of the curators, Daniel Lowe and Francis Owtram, will introduce the enhanced catalogue and explain the potential of the resource for teaching.
Onley has stated: "The Qatar Digital Library contains the world's largest digital collection of historical records on the Gulf Arab states and Iran.  Its launch is a major milestone in the study of these countries.  Now anyone can access the region's fascinating past from anywhere.  This easy access will enable scholars around the world to discover new things and write new histories that will expand, and ultimately transform, our understanding of the region."
For live tweets from the event follow us  @BLQatar.
 Valentina Mirabella
Archival Specialist, British Library/Qatar Foundation Partnership