Expired from eating too many pineapples
In South Park Street Cemetery Kolkata is the grave of Rose Whitworth Aylmer, a young girl aged 20 who died of cholera on 2 March 1800. On her monument are the following lines of poetry:
'What was her fate? Long, long before her hour, Death called her tender soul, by break of bliss, From the first blossoms, to the buds of joy; Those few our noxious fate unblasted leaves In this inclement clime of human life'.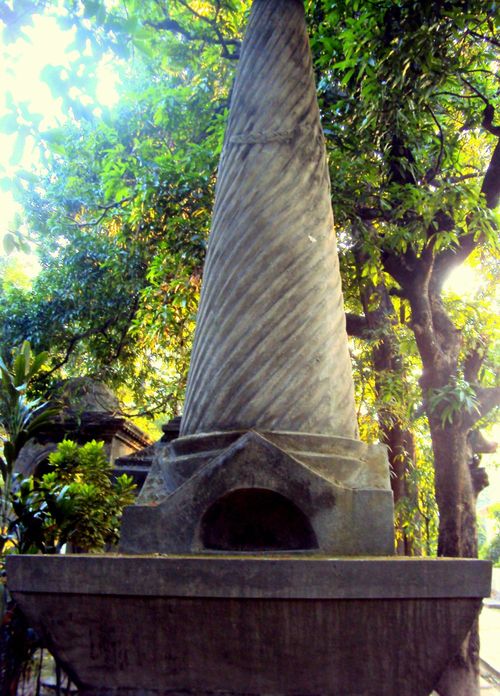 Rose Aylmer's tomb from The Calcutta Diaries blog, 19 February 2012 'Haunting the South Park Street Cemetery'.
Permission to use photo granted by Aniruddha Brahmachari.
The poetry, written by the poet Walter Savage Landor (1775-1864), is a lasting testament to two young lovers separated by distance, never to see each other again.
Rose Aylmer was the only daughter of Sir Henry Aylmer, 4th Lord Aylmer and his wife Catherine Whitworth. Following her husband's death in 1785 Lady Aylmer remarried to Howel Price and relocated to Pembrokeshire, Wales with her daughter and four sons. It was there that Rose met the young aspiring poet Walter Savage Landor.
As a 17 year old Rose was known to enjoy walking in the Welsh Hills with Walter.  However a year later in 1798 Rose was sent to India to join her aunt Lady Russell, a decision which some believed to be a move by her family to take her away from this unsuitable suitor. It was in Calcutta that she tragically died two years later.
Following her death Walter penned a poem in her honour:
Ah, what avails the sceptred race,
Ah, what the form divine!
What, every virtue, every grace!
Rose Aylmer, all were thine.
Rose Aylmer, whom these wakeful eyes
May weep but never see
A night of memories and sighs
I consecrate to thee.
Rose is also credited with having inspired Walter's poem Gebir having apparently loaned him The Progress of Romance by the Gothic author Clara Reeve which contained the story of The History of Charoba, Queen of Egypt upon which Gebir is based.
To explain the title of this blog: 'expired from eating too many pineapples' was the way in which locals explained Rose Aylmer's death. The consumption of pineapples and other fresh fruit such as watermelons was at this time believed to have been one way in which people contracted cholera and many towns banned the sale of such fruits during outbreaks as a way of trying to stop the illness from spreading.
Karen Stapley
Curator, India Office Records

Further reading:
Ashley MS A17-5678 The Ashley Manuscripts contain Walter Savage Landor's poetry along with original correspondence and photographs.
Photo 430/73(81,82) Rose Aylmer's tomb, South Park Street Cemetery, Calcutta, c.1900 from the Curzon Collection.
The poem 'Rose Aylmer' along with other poems by Walter Savage Landor and biographical information about him can be found on the Poetry Foundation website.