Religion, politics and the law: a new special collection
It has been over two years in the making, but I am delighted to be able to say that my own special collection in the UK Web Archive is now online.
A couple of years ago, long before coming to the BL, I joined the Researchers and the UK Web Archive project at the Library which brought together a group of scholars to guest-curate special collections on our own particular research interests. As an historian, I was interested in the marked sharpening of the terms of discourse about the place of religion in British public life, particularly since 9/11 and the London bombings in 2005. It struck me that a good deal of this debate had already shifted online, and so new ways and means of capturing and preserving it were going to be needed. And so, the 'politics of religion collection' (as it was then known) was born.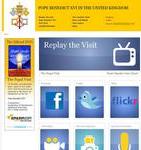 As has been noted many times in this blog, the problem for web archiving is that we're dealing with other people's copyright work, and so an individual permission is needed for each site. I have a long list of sites which I would dearly love to add to the collection, but for which (for various reasons) we've had no response. So, if you are the owner of Protest the Pope, or Holy Redundant, or Christians in Politics, please get in touch. For now, even if the collection cannot be anything like comprehensive, I do hope that it is at least coherent.
There are particular strengths, and some gaps. It includes many campaigning organisations, both secularist and religious, and is heavy on the conservative Christian organisations about which I myself know most. It is relatively light on non-Christian faiths, since I know the field much less well. It is still very much open, however, and so suggestions of sites that ought to be included are very welcome, via this blog or via the UK Web Archive site.
See a previous post about my progress in 2012.
Peter Webster