A Calendar Page for August 2014
For more information about the Huth Hours, please see our post A Calendar Page for January 2014.
Agricultural labours continue in these two calendar pages for the month of August.  On the first folio, among a scatter border of flowers and insects, we see a roundel of two peasants, inside a barn.  They are at work threshing the wheat that was harvested in July, while, through the window behind them, we can see a few birds circling.  On the facing folio, a barefoot peasant is shaking a shallow basket, literally separating the wheat from the chaff.  Above him is a seated woman with a palm for the zodiac sign Virgo.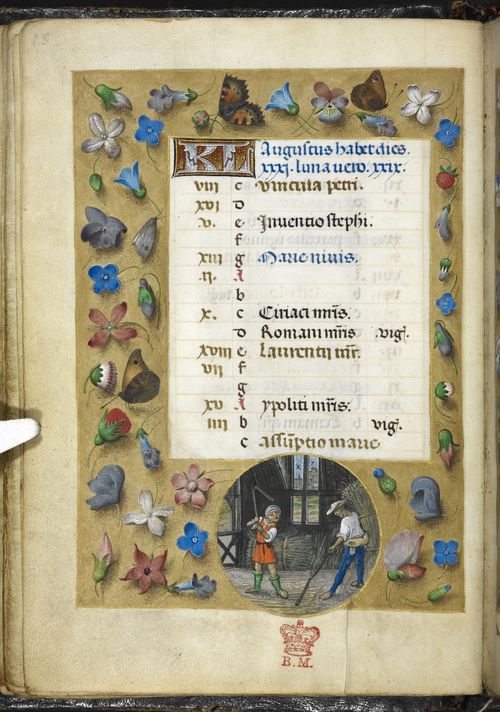 Calendar page for August, with a roundel miniature of two men threshing grain, from the Huth Hours, Netherlands (Bruges or Ghent?), c. 1480, Add MS 38126, f. 8v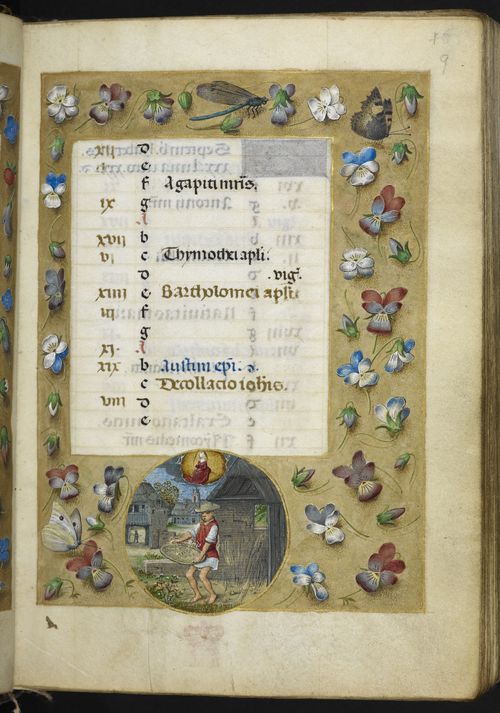 Calendar page for August, with a roundel miniature of a man separating wheat from chaff, with the zodiac sign Virgo, from the Huth Hours, Netherlands (Bruges or Ghent?), c. 1480, Add MS 38126, f. 9r
- Sarah J Biggs