For more information about the Bedford Hours, please see our post for January 2016; for more on medieval calendars in general, our original calendar post is an excellent guide.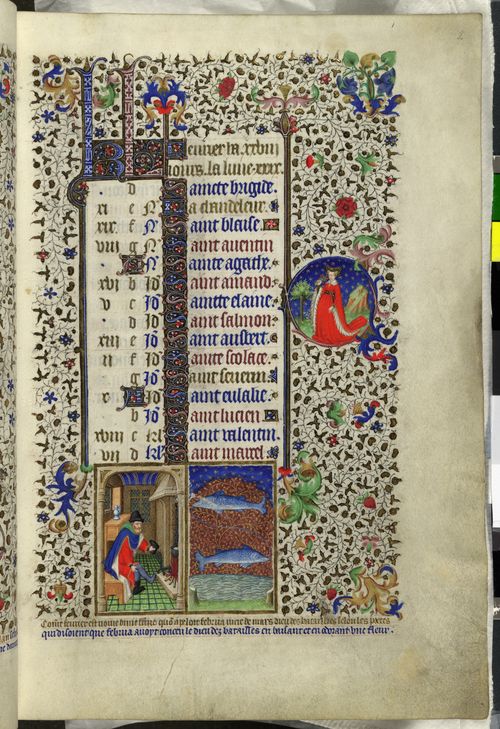 Calendar page for February from the Bedford Hours, France (Paris), c. 1410-1430, Add MS 18850, f. 2r
The calendar pages for February are just as lavishly decorated as those for January, filled with coloured initials and gold foliage.  At the bottom of the first folio is a miniature of another pleasant winter labour, that of warming oneself before a fire.  The gentleman in this scene has just removed one of his boots and is extending his foot towards a roaring fire, presumably after coming in from the cold.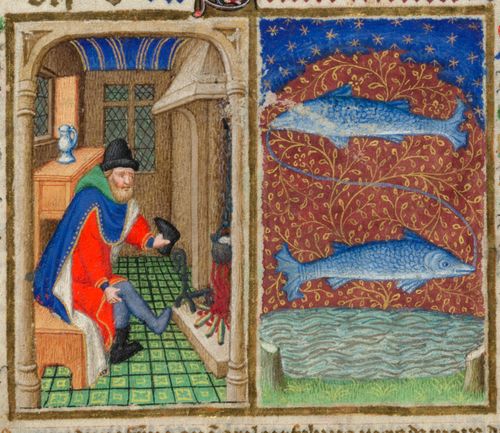 Detail of the miniatures for warming oneself and the zodiac sign Pisces, from the calendar page for February, Add MS 18850, f. 2r
Alongside is a miniature of two fish connected by a single line, hovering above an ocean and below a star-studded sky – this for the zodiac sign, Pisces.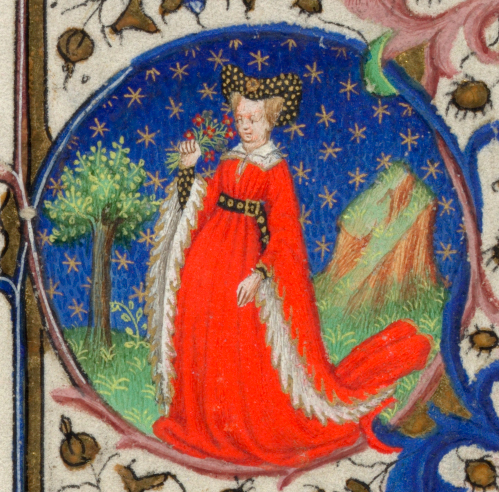 Detail of a marginal roundel with Februa and flowers, from the calendar page for February, Add MS 18850, f. 2r
Above in a roundel is an elegantly-dressed lady in a red dress trimmed with ermine; she is holding a bunch of flowers close to her face.  This unusual scene is explained by the rubrics at the bottom of the folio, which describe how this month is named after a woman called 'Februa', who 'according to the poets' was the mother of Mars, the god of war.  Rather unusually, she is said to have conceived her son by 'kissing and adoring a flower'.

Calendar page for February, Add MS 18850, f. 2v
The remaining saints' days are laid out in the following folio, with a bit of space left blank because of the shortness of the month.  The roundels once again illustrate the bottom verses, which describe a procession around the city and the annual February Festival of Fools.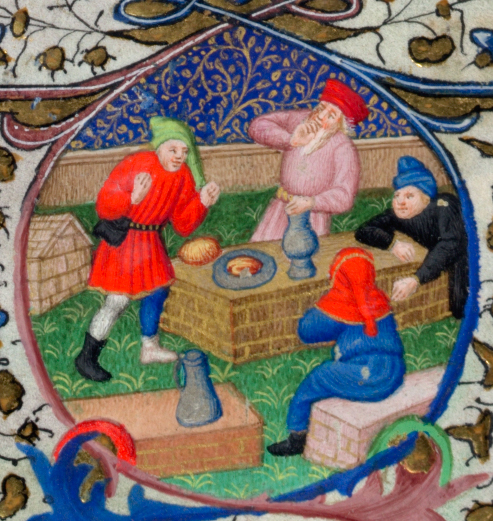 Detail of a marginal roundels of a city procession and the Festival of Fools, from the calendar page for February, Add MS 18850, f. 2v
-  Sarah J Biggs