30 March 2012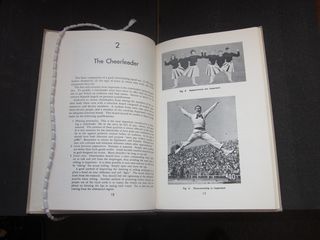 Cheerleading,  Newt Loken, Ronald Press: New York, 1961, Second Edition [Shelfmark 72/16766] 
 
Recently I went to see my daughter in the end of term performance of her cheerleading class.  It was a superb spectacle full of pizzazz, pom-poms and endless amounts of energy topped off with a touch of self consciousness. It was a worthy reward for the audience of proud parents who had dashed to make the mid afternoon engagement.   
It got me thinking about what we have in the collections relating to cheerleading. According to The Berkshire Encyclopedia of World Sport (HLR 796.03), it is a sport in its own right, with professional teams, competitions and leagues, and can be traced back to the 1840s, where it developed as part of the military traditions of the U.S. Army and Navy.  In its earliest incarnations injured or substitute players would lead the cheering from the bench. By the 1900s the role of "yell leader" was created - a prestigious position to hold, comparable to the quarterback on the football team. 
It was not until the 1920s that women first started to become involved, and the University of Minnesota was one of the first to have female cheerleaders. But at the time, these women were perceived to be encroaching on male sporting territory and as a result, were often viewed as being too 'masculine'. However, it was the post World War II years, and in particular, the forming of the National Cheerleaders Association in 1948 by Lawrence Herkimer that saw the development of the sport into what we recognise today.  By the 1970s, cheerleading was considered a 'natural' female activity, but it was still as late as 1971 that Harvard University finally permitted women cheerleaders.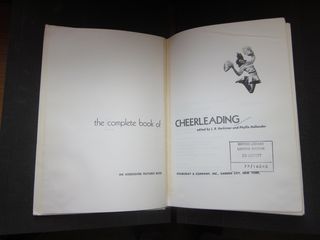 The Complete book of Cheerleading, Eds. L.R.Herkimer and Phyllis Hollander, Doubleday & Company: New York, 1975 [Shelfmark:77/16045]
Explore the British Library  provides us with a number of useful resources which include cheerleading manuals and various articles in medical journals assessing the injuries one might sustain while participating in the sport. In addition there are numerous books and articles which examine the sport from a cultural context and which engage it from a sociological and/or feminist perspective, addressing the rigidly gendered perceptions of the activity and its political ramifications. Of particular note is the way that 'radical cheerleading' was incorporated into the marches of the anti-capitalist protest movements of the 1990s.
Further Reading:
Women, Sport, and Culture Eds. Susan Birrell & Cheryl L. Cole Human Kinetics: Champaign IL 1994 [YC.1995.b.6129]
Go! Fight! Win! Cheerleading in American Culture, Mary Ellen Hanson, Bowling Green State University Popular Press: Bowling Green OH 1995 [YA.1996.b.7135] 
Laura Grindstaff and Emily West, "Cheerleading and the Gendered Politics of Sport" in
Social Problems Vol. 53, No. 4, November 2006, pp. 500-518
Jeanne Vaccaro, "Give me an F: Radical cheerleading and feminist performance" Women & Performance: a journal of feminist theory Volume 14, Issue 2, 2005 pp. 43-50
[J.J.]