01 September 2012
A Calendar Page for September 2012
For more details on calendar pages of the Hours of Joanna of Castile, please see the entry for January 2012.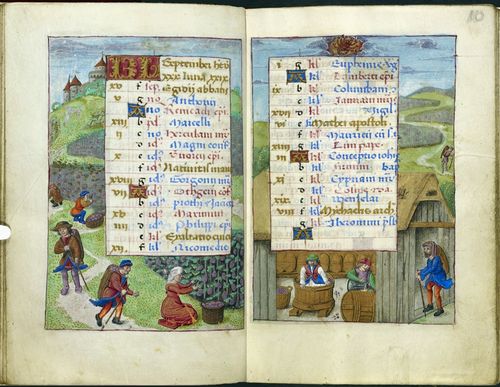 Calendar pages for September, from the Hours of Joanna of Castile, Netherlands (Bruges), between 1496 and 1506, Additional 18852, ff. 9v-10
September is (and was) traditionally the month to begin the grape harvest, and the vitally important task of wine-making.  The calendar pages for this month give us two such scenes, beginning on the left, where a group of men and a single woman are harvesting grapes and carrying them in wicker baskets, overlooked by a turreted castle on the hilltop.  On the right hand page, two men with wicker baskets are carrying their grapes into a barn, where one man is pouring wine into casks and another is crushing grapes in a barrel (and making a bit of a mess, it appears).  Above this scene is a strange-looking scorpion, for the zodiac sign Scorpio; this is most likely an error, since September is most traditionally associated with the sign Virgo (see last year's page, for example).