Do you ever wake up in the morning, and think to yourself, "I wonder what's the medieval Cornish word for unicorn?" If you belong to that select (and special) band, you might be aware that the British Library holds a 12th-century copy of a Latin-Old Cornish glossary, which contains the names of various birds, animals and fish, and other objects from daily life.
The glossary in question is found on ff. 7r-10r of Cotton MS. Vespasian A. XIV, which was probably made not in Cornwall but in South-East Wales. The other components of this manuscript include a kalendar (ff. 1r–6v), the treatise De situ Brecheniauc (ff. 10v–11v), and various Lives of Welsh saints, such as Cadog (ff. 17r–43v), Illtud (ff. 43v–52r) and David (ff. 61r–70v). The saints' Lives have been edited from this manuscript by A. W. Wade-Evans, Vitae Sanctorum Britanniae et Genealogiae (Cardiff, 1944), and the whole compilation studied by Kathleen Hughes ('British Library MS. Cotton Vespasian A. XIV (Vita Sanctorum Wallensium): its purpose and provenance', in her Celtic Britain in the Early Middle Ages: Studies in Scottish and Welsh sources (Woodbridge, 1980), chapter IV).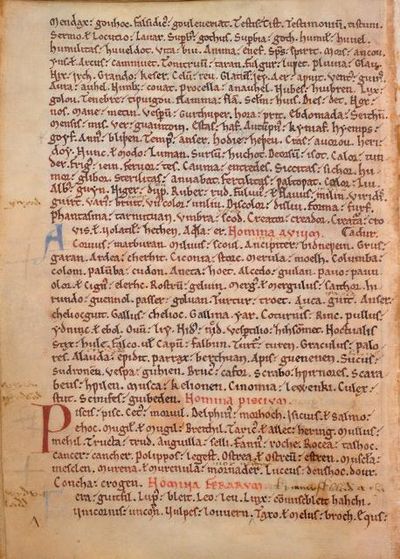 So here is today's Cornish lesson, taken from one page of the glossary (f. 8v). Practise on your friends and family, and watch them stand back in amazement as you demonstrate your proficiency in Old Cornish.
Albus. Guyn. [White]
Niger. Dup. [Black]
Ruber. Rud. [Red]
Phantasma. Tarnatuan. [Phantom]
Umbra. Scod. [Shadow]
Nomina avium. [The names of birds]
Avis uel uolatilis. Hethen. [Bird]
Aquila. Er. [Eagle]
Coruus. Marburan. [Raven]
Gallus. Chelioc. [Cock]
Vespertilio. Hihsommet. [Bat]
Nomina piscium. [The names of fish]
Piscis. Pisc. [Fish]
Cetus. Moruil. [Whale]
Delphinus. Morhoch. [Dolphin]
Isicius uel salmo. Ehoc. [Salmon]
Cancer. Cancher. [Crab]
Nomina ferarum. [The names of beasts]
Fera. Guitsil. [Beasts]
Lupus. Bleit. [Wolf]
Leo. Leu. [Lion]
Uulpes. Louuern. [Fox]
Unicornis. Uncorn. [Unicorn]
Further proof, if any was needed, that unicorns really did exist in the Middle Ages.