A Calendar Page for December 2012
For more details on calendar pages or the Hours of Joanna of Castile, please see the entry for January 2012.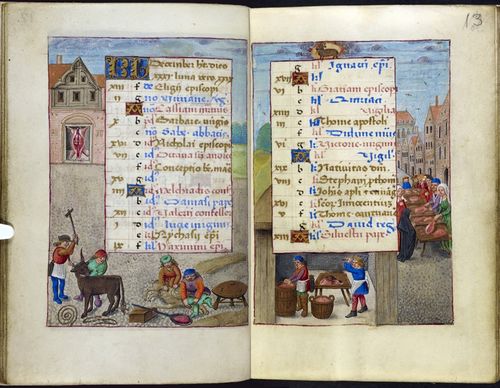 Calendar pages for December, from the Hours of Joanna of Castile, Netherlands (Bruges), between 1496 and 1506, Additional 18882, ff. 12v-13
These December calendar pages feature another relatively tame version of Capricorn - a lone, rather wistful-looking goat rather than the more common half-goat, half-fish (see last year's December page for another example).  Below Capricorn, on the first calendar page, livestock are being slaughtered.  Two men on the left are about to deliver the coup de grâce to a standing steer, while on the right two other men are cutting a pig's throat (and collecting its blood in a nearby pan).  Behind can be seen a stretched and butchered carcass.  On the right two butchers are at work in a shed; outside is a market square with a long row of tables for the meat to be sold to waiting customers (including another nun - perhaps the same one that can be seen in the November scene?).