A Calendar Page for August 2013
For more details on calendar pages or the Golf Book, please see the post for January 2013.
The aristocratic pursuits which have so characterised this manuscript (see here for April, May, June and July) take a back seat in these scenes from the calendar pages for August.  In the opening full-page miniature, a man and a woman are pausing from their labours in the fields to take some refreshment; the man is holding out a bowl towards another woman, who bears a basket of food and a jug (one hopes that it is full of wine).  A dog with a studded collar plays nearby, while behind the resting pair more peasants are at work harvesting grain.  In the bas-de-page, a group of men are engaged in the rather disquieting game of 'cock-throwing', hurling sticks at a bird that has been tied to a stake.  On the following page are the saints for August, and a small roundel miniature of a woman holding a flower, for the zodiac sign Virgo.  Below, another group of men are snaring birds, using an owl to attract them. 
Calendar page for August with a miniature of labourers harvesting grain and resting in the fields, from the Golf Book (Book of Hours, Use of Rome), workshop of Simon Bening, Netherlands (Bruges), c. 1540, Additional MS 24098, f. 25v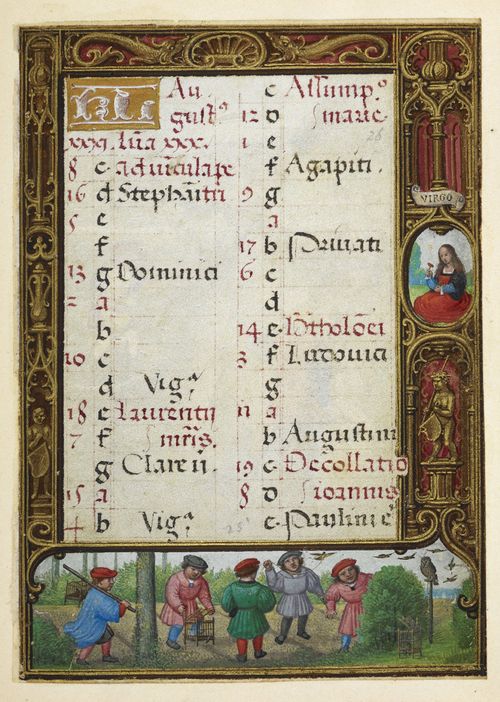 Calendar page for August with a bas-de-page scene of a men snaring birds, from the Golf Book (Book of Hours, Use of Rome), workshop of Simon Bening, Netherlands (Bruges), c. 1540, Additional MS 24098, f. 26r