07 October 2013
Fancy Another Giant List of Digitised Manuscript Hyperlinks?
As promised back in July, we have an updated list of digitised manuscripts to offer you, our loyal readers.  This master list contains details of everything that has so far been uploaded by the Medieval and Earlier Manuscripts department, complete with hyperlinks to each individual record on our Digitised Manuscripts site.  You can download the Excel spreadsheet here:   Download BL Medieval and Earlier Digitised Manuscripts Master List 07.10.13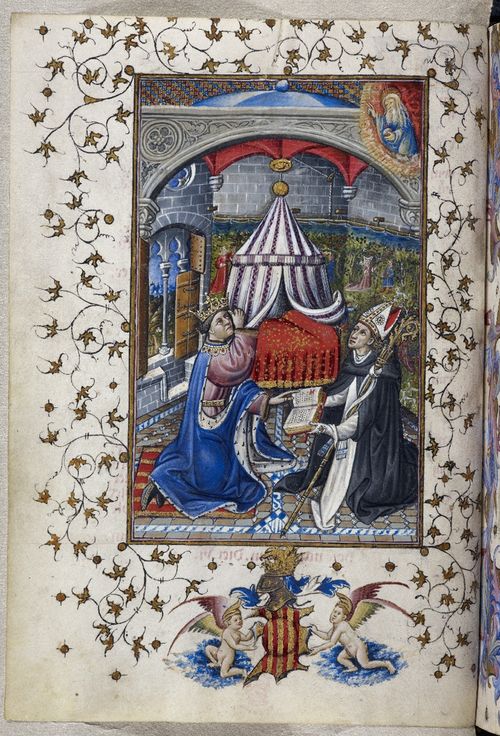 Miniature of King Alfonso V praising our spreadsheet as Bishop Juan de Casanova looks on, from the Prayerbook of Alfonso V of Aragon - a new arrival to our list! produced in Spain (Valencia), 1436-1443, Add MS 28962, f. 14v
We should have another new list for you in 3 months - happy hyperlink clicking!
- Sarah J Biggs
Greek, Harley Science, Royal, and Medieval Manuscripts projects. - See more at: http://britishlibrary.typepad.co.uk/digitisedmanuscripts/2013/07/fancy-a-giant-list-of-digitised-manuscript-hyperlinks.html#sthash.zXn4I41e.dpuf
Greek, Harley Science, Royal, and Medieval Manuscripts projects. - See more at: http://britishlibrary.typepad.co.uk/digitisedmanuscripts/2013/07/fancy-a-giant-list-of-digitised-manuscript-hyperlinks.html#sthash.zXn4I41e.dpuf