A Calendar Page for May 2014
For more information about the Huth Hours, please see our post A Calendar Page for January 2014.
The themes of courting and pleasurable outdoor pursuits continue in these calendar pages for the month of May.  On the first folio is the beginning of the listing of saints' days and feasts for May, amongst a backdrop of flowers.  In the roundel below can be found a roundel miniature of an aristocratic young couple on horseback, setting off to go hawking (it is perhaps, but not definitely, the couple found on the opening folio for April).  On the next folio is a small painting of a nude couple for the zodiac sign Gemini.  Beneath is a well-dressed lady sitting in a flowering garden, engaged in a somewhat mysterious activity.  Curators in our department have variously theorised that she is holding a tambourine, an embroidery hoop, or a skein of yarn; please do let us know what you think!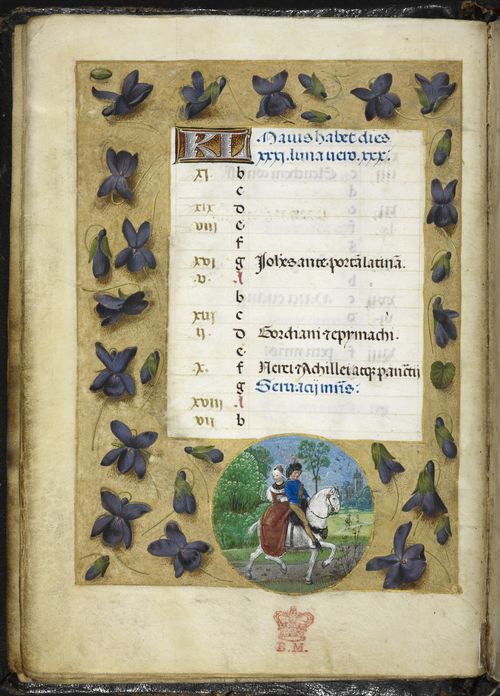 Calendar page for May, with a roundel miniature of a couple going hawking, from the Huth Hours, Netherlands (Bruges or Ghent?), c. 1480, Add MS 38126, f. 5v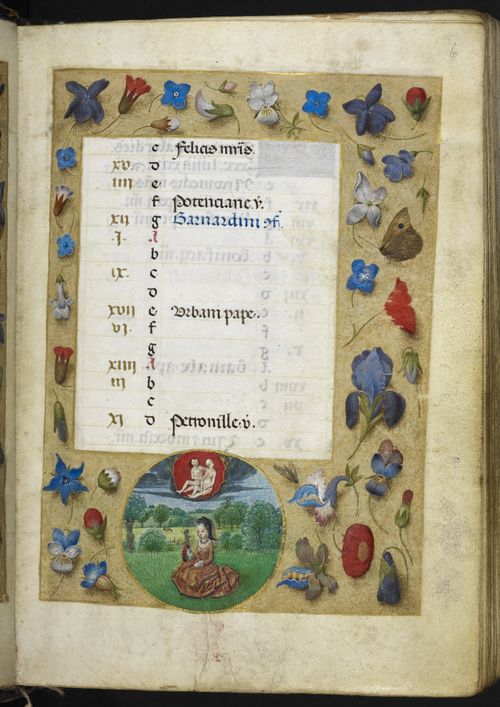 Calendar page for May, with a roundel miniature of a lady in a pleasure garden, with the zodiac sign Gemini, from the Huth Hours, Netherlands (Bruges or Ghent?), c. 1480, Add MS 38126, f. 6r

- Sarah J Biggs