A Calendar Page for June 2014
For more information about the Huth Hours, please see our post A Calendar Page for January 2014.
In these calendar pages for the month of June, the agricultural labours for the summer are beginning in earnest.  In the first roundel of our calendar pages, we see a peasant at work scything in grass in a field surrounded by a wattled fence (beautifully highlighted with gold paint).  Behind him a man and a woman are similarly employed, while in the background there is a gorgeous landscape characteristic of Bruges illumination of the period, with a peasant's hut, spired buildings, a manor house, and even a windmill.   On the facing folio, below a lobster-like crab for the zodiac sign Cancer, there is a charming summer scene.  Four young boys have cast their clothes aside and are swimming and playing in a local river.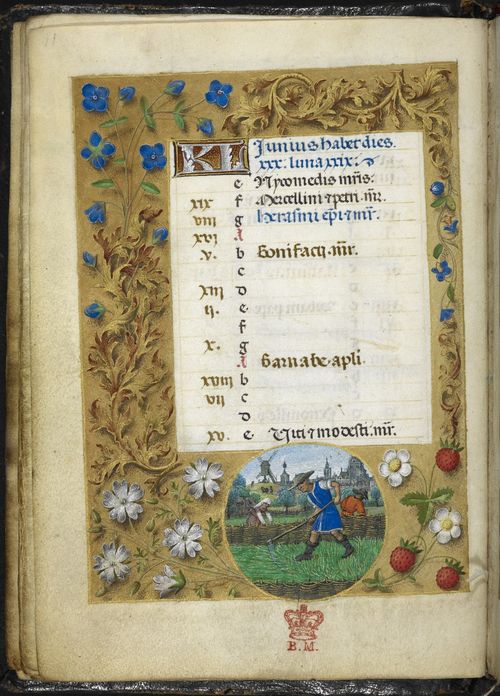 Calendar page for June, with a roundel miniature of people working in the fields, from the Huth Hours, Netherlands (Bruges or Ghent?), c. 1480, Add MS 38126, f. 6v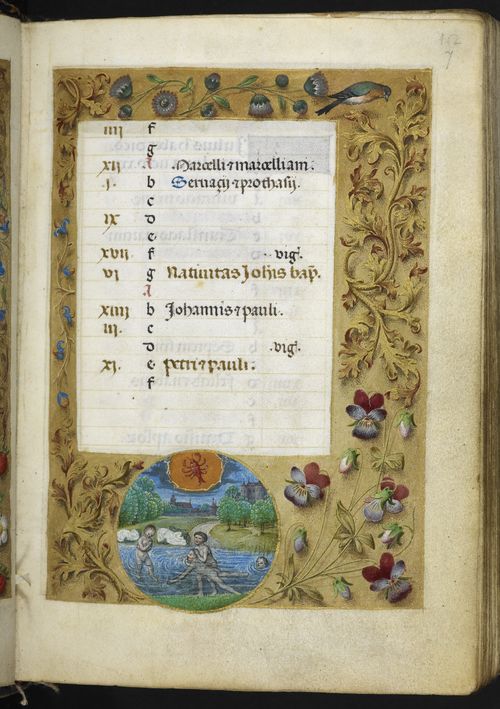 Calendar page for June, with a roundel miniature of boys swimming in a river, with the zodiac sign Cancer, from the Huth Hours, Netherlands (Bruges or Ghent?), c. 1480, Add MS 38126, f. 7r
- Sarah J Biggs