A Calendar Page for September 2014
For more information about the Huth Hours, please see our post A Calendar Page for January 2014.
September marks the beginning of the wine-making season in the northern hemisphere, and this is as true today as it was on the pages of our medieval calendar.  In the opening folio, the process is beginning in earnest, as three women are busy picking grapes in a vineyard, loading them into the basket of a waiting man.  Behind them are several grand buildings, while the oenophilic theme of the month is mirrored by the acanthus vines circling round the page.  The labour continues on the facing folio.  Below the saints' days for September and a woman holding a balance (for the zodiac sign Libra), a man is bringing a full basket of grapes into a barn.  He is greeted by a fellow worker, who stands in a tub full of grapes, crushing them beneath his feet.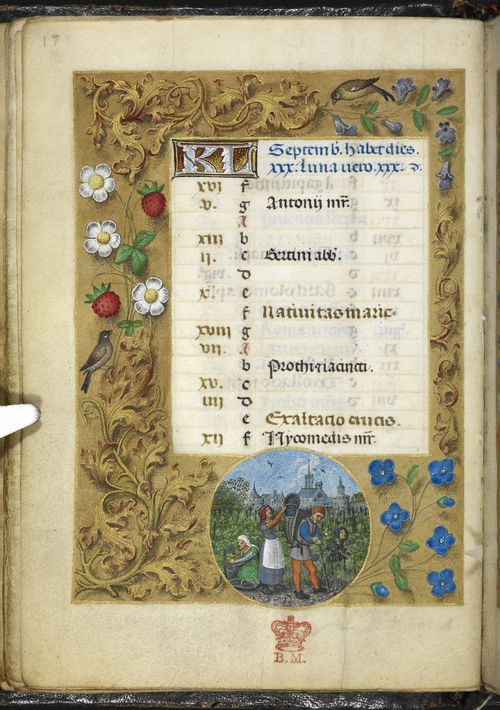 Calendar page for September, with a roundel miniature of people harvesting grapes, from the Huth Hours, Netherlands (Bruges or Ghent?), c. 1480, Add MS 38126, f. 9v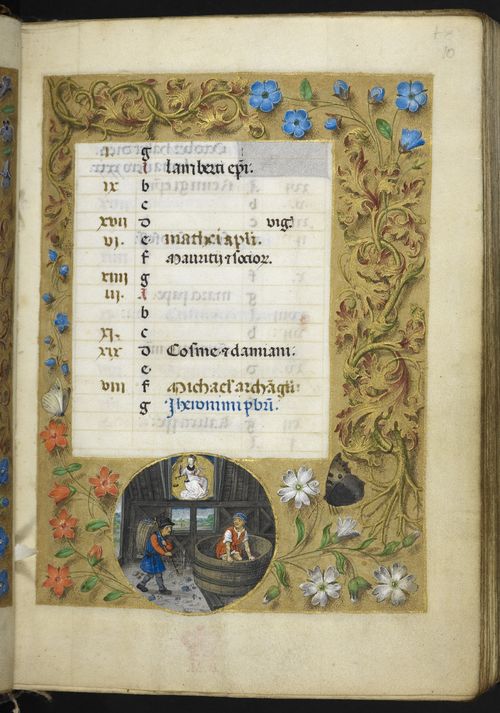 Calendar page for September, with a roundel miniature of a men making wine, with the zodiac sign Libra, from the Huth Hours, Netherlands (Bruges or Ghent?), c. 1480, Add MS 38126, f. 10r
- Sarah J Biggs