10 October 2015
Medieval Animal Tales
You have until 1 November 2015 to run, gallop, canter, fly, swoop or simply walk down to the British Library to catch the brilliant (and free!) Animal Tales exhibition, on display in the Entrance Hall Gallery.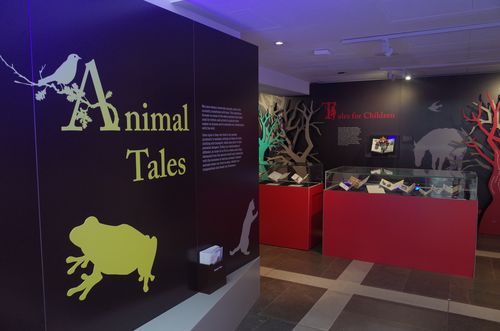 Curated by Matthew Shaw, Alison Bailey and Barbara Hawes, Animal Tales explores the relationship between beasts and humans in works of literature and artistic books: the many ways in which human feelings and thoughts have been projected onto animals, and how the animal kingdom has served as a mirror to human foibles. A full list of exhibits is available on our American Collections blog. 
Two items likely to be of interest to readers of this blog are Guillaume Apollinaire's Le Bestiaire, ou Cortège d'Orphée (1977) and Pablo Neruda's Bestiary/Bestario (1965). These 20th-century re-imaginings of a medieval genre provide the perfect opportunity for us to look over the British Library's rich collection of bestiary manuscripts.

Detail of a miniature showing vultures feeding on human carrion, from the Rochester Bestiary, south-eastern England (?Rochester), c. 1230, Royal MS 12 F XIII, f. 50r
When we think of medieval bestiaries, what first comes to mind are richly illuminated manuscripts: for example, the 13th-century Rochester Bestiary (Royal MS 12 F XIII). Some 55 miniatures illustrate passages of text that describe animals and their behaviour, from the lion to vulture (via the elephant, beaver, dromedary and mole). The 13th century was the heyday of the Latin bestiary, and based on the distribution of surviving examples and entries in contemporary book-lists, they were most popular in England.
Detail of a miniature showing elephants, a dragon and a mandrake, from a bestiary, northern France, 2nd or 3rd quarter of the 13th century, Sloane MS 278, f. 48v
Such manuscripts represent the culmination of a very long textual tradition. Bestiaries were primarily based on the Physiologus, a Greek text from Alexandria written between the 2nd and 4th centuries. The Latin translation that followed shortly thereafter provided the basis for the medieval bestiary, along with interpolations from Pliny the Elder's Historia naturalis and Isidore of Seville's Etymologiae.
Miniatures of goats and a bull, from a bestiary compiled with other theological texts and medical recipes, northern or central England, 1st quarter of the 13th century, Royal MS 12 C XIX, ff. 31v-32r
In monastic libraries, bestiaries were usually classified along with theological works and shelved with similar materials, such as sermons, penitentials, and lives of saints. The compilation of a bestiary in Royal MS 12 C XIX along with two sermons and extracts from the Bible, the Imago mundi and the Etymologiae further illustrates the context in which contemporary readers encountered this text. This manuscript (omitting the French and Latin recipes at the end) is a direct copy of the Worksop Bestiary (New York, Pierpont Morgan Library, MS M. 81).
Detail of a miniature of Adam naming the animals, with a stag, a lion, a donkey, a rabbit, and a man riding a camel, from the Rochester Bestiary, Royal MS 12 F XIII, f. 34v
While the Physiologus began its life as a treatise structured around the subjects of virtue and vice, the interpolations from other texts gradually changed the bestiary's form to reflect the organisation of the natural world as described in Genesis. The moralising content remained, however, and many medieval sermons and preaching handbooks contain such material derived from bestiaries. It was as source-books for edifying and instructive stories, complementary to those derived from the Bible or hagiographies, that the bestiaries derived their success and widespread circulation.  
Detail of a miniature of moles burrowing underground, from the Rochester Bestiary, Royal MS 12 F XIII, f. 44v
For a more in-depth look at the bestiary genre, its origins and evolution, and links to further images, check out our online exhibition, Books of Beasts in the British Library: The Medieval Bestiary and its Context.
Detail of a miniature of hunters spearing a bonnacon, and protecting themselves from its burning dung with a shield, from a bestiary, with extracts from Giraldus Cambrensis on Irish birds, England (Salisbury), 2nd quarter of the 13th century, Harley MS 4751, f. 11r
Past posts on animals – real or fantastic – are among the most popular ones published on this blog. Who could forget the Unicorn Cookbook? Or Medieval Lolcats and Bugs in Books? We've had dancing monkeys in Apes Pulling Shapes, the humble hedgehog in The Distinguished Pedigree of Mrs Tiggy-Winkle and How to be a Hedgehog, and the mighty lion in A Royal Beast and the Menagerie in the Tower. There's also a handy guide to possibly the oddest creatures in Weird and Wonderful Creatures of the Bestiary; beware of the bonnacon, that's all we can say.
Animal Tales runs until 1 November 2015 in the Entrance Hall Gallery at the British Library. Entry is free.
- James Freeman