01 July 2016
A Calendar Page for July 2016
For more information about the Bedford Hours, please see our post for January 2016; for more on medieval calendars in general, our original calendar post is an excellent guide.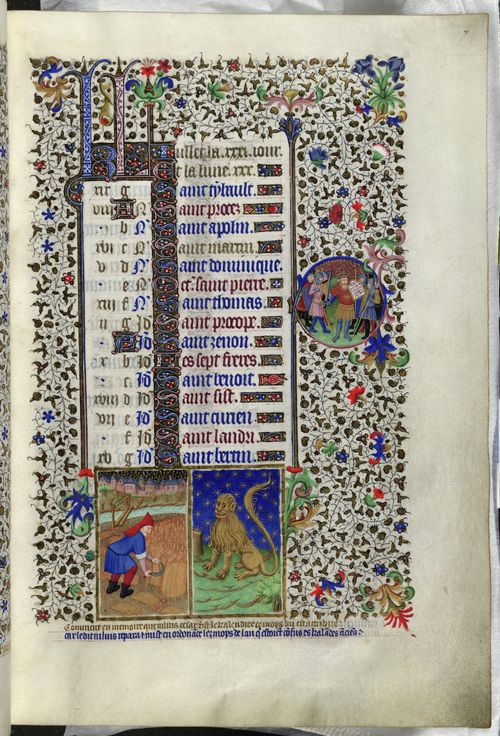 Calendar page for July from the Bedford Hours, France (Paris), c. 1410-1430, Add MS 18850, f. 7r
Summer is in full swing in the Bedford Hours calendar pages for the month of July. 

Detail of miniatures of a man scything wheat and the zodiac sign Leo, from the calendar page for July, Add MS 18850, f. 7r
At the bottom of the folio is a miniature of a man engaged in a very typical labour of the month for July, scything wheat.  Although he is surrounded by a bucolic landscape including a river and a small bridge, our peasant appears less than pleased about his task.  Happily, his grumpy attitude is not shared by his companion at the bottom of the page, a remarkably jolly looking lion, for the zodiac sign Leo.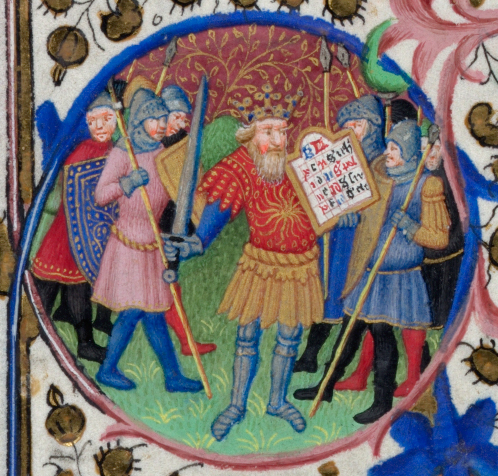 Detail of a marginal roundel of Julius Caesar, from the calendar page for July, Add MS 18850, f. 7r
On the middle left of the folio is a roundel miniature of an armoured king, crowned, holding a sword and a tablet headed with the letters 'KL' – a very simplified version of a medieval calendar.  This king, the rubrics tell us, is Julius Caesar, for whom the month of July was named.  The verses go on to describe how Caesar 'fixed and put in order' the months of the year that were 'confused in the ancient calendar' and for this achievement he was eternally memorialised.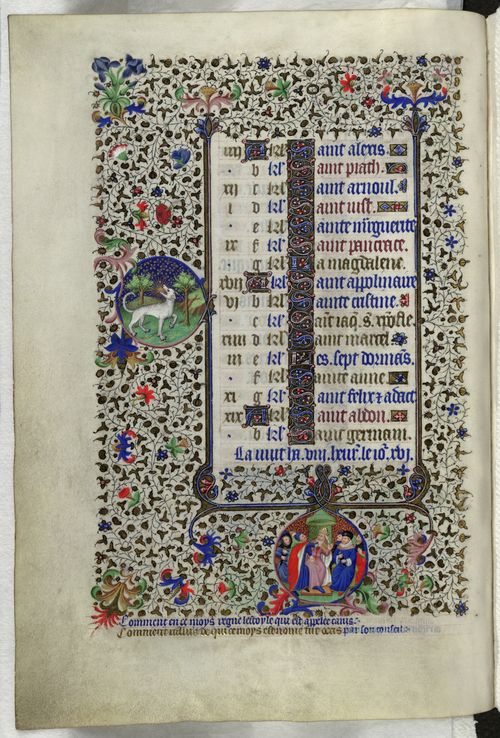 Calendar page for July, Add MS 18850, f. 7v
The saints' days for July continue on the following folio, accompanied by two marginal roundels. The first of these, on the middle left, shows a snarling dog who appears to be biting at a bright star; this is most likely intended to represent Canis, the star that the rubrics tell us is 'reigning' in the month of July.  At the bottom is a less pleasant scene of Julius Caesar.  He is here seated on this throne, raising his arm in alarm as another man plunges a dagger in his chest.  Two men close by are also pulling daggers from their sheaths in a scene that illustrates how Caesar 'was killed by his counsel.'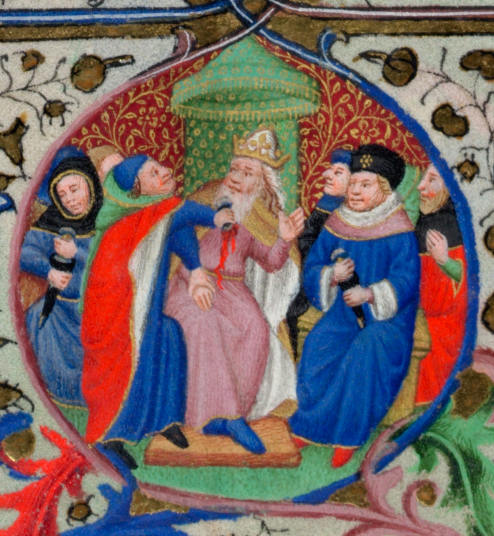 Detail of marginal roundels of Canis and the murder of Julius Caesar, from the calendar page for July, Add MS 18850, f. 7v
-   Sarah J Biggs