15 April 2015
Günter Grass (1927-2015)
Günter Grass, who died this week aged 87, is best known for his first novel Die Blechtrommel (The Tin Drum), published in 1959, never out of print since, and memorably filmed by Volker Schlöndorff in 1979. When Grass was awarded the Nobel Prize for Literature in 1999, the Nobel Foundation described the novel's narrator and chief protagonist Oskar Matzerath as "an intellectual whose critical approach is childishness, a one-man carnival, dadaism in action."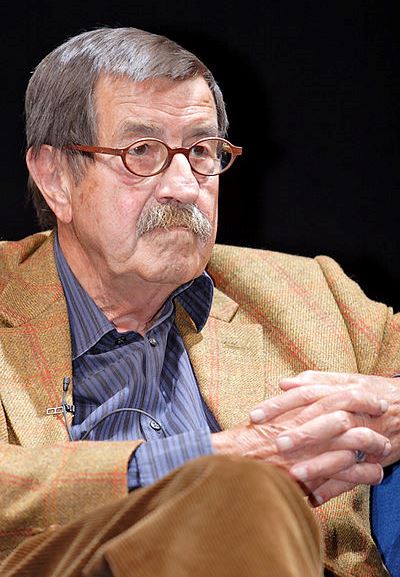 Günter Grass in 2006. (Picture from Blaues Sofa on Wikimedia Commons) 
Much of the action of Die Blechtrommel takes place in Grass's native Danzig, then part of Germany, now Gdansk in Poland. The city remained central to his imagination: two further novels Katz und Maus (Cat and Mouse) and Hundejahre (Dog Years) make up what is known as the 'Danzig Trilogy', while his 1992 novel Unkenrufe (The Call of the Toad) revisits the city after the fall of Communism. Visitors to Gdansk today can follow guided tours around sites from his life and work.
Although he was best known as a novelist, Grass was a man of many parts: poet, playwright, artist, political activist and occasional jazz musician. He initially studied sculpture and graphic arts, and his work in these genres continued throughout his life, alongside his writing. A catalogue rasionné of his etchings and lithographs, published in 2007, runs to two hefty volumes and lists nearly 40 exhibitions of his work. His pictures often reflect themes and symbols from his literary works, and certain subjects and images recur over the years (most enduringly fish, especially the flounder that gives its name to his novel Der Butt).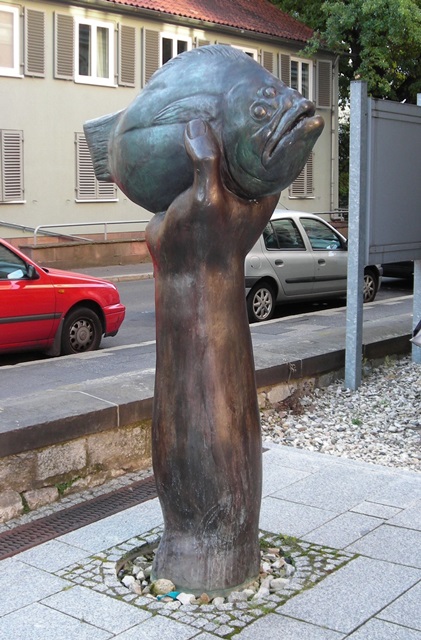 Sculpture by Grass in Göttingen, showing a hand holding a flounder (photo: Susan Reed)
Grass always drew the cover illustrations for his novels, and also produced illustrated collections of  poetry. His poetry is less well-known (and more uneven) than his novels, but his first published work was a collection of poems and pictures, Die Vorzüge der Windhühner ('The advantages of the weathercocks') and he continued to write poetry throughout his life, in particular causing controversy in 2012 with the long poem 'Was gesagt werden muß' ('What must be said') which was highly critical of the Israeli government.
The title of the poem also reflects an earlier controversy over politics in Grass's work. In 1995 the magazine Der Spiegel published a highly critical review by the influential critic Marcel Reich-Ranicki of Grass's novel Ein weites Feld (Too Far Afield), entitled '... und es muß gesagt werden' ('... and it must be said'). The novel voiced Grass's criticism of German reunification, which he thought had been entirely driven by the agenda of a West Germany keen to grab what he called 'ein Schnäppchen namens DDR'  ('a bargain called the GDR'). The magazine's cover fuelled the controversy by showing Reich-Ranicki apparently tearing apart a copy of the book.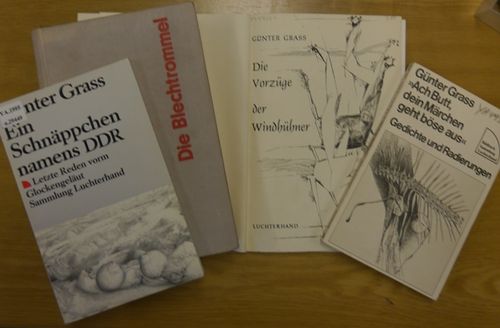 Some of Grass's works, includng his cover illustrations, from the British Library's collection
Controversy was in fact another constant in Grass's life, most notoriously in 2006 when he admitted in his memoir Beim häuten der Zwiebel (Peeling the Onion) that he had been a teenage volunteer in the Waffen-SS rather than a conscript as he had previously implied. This belated confession from an author considered by many as the conscience of the nation, renowned for confronting the past and encouraging others to do so, struck many as hypocritical, and there were even calls for him to be stripped of his Nobel Prize and his honorary citizenship of Gdansk.
But, as many obituarists have pointed out, it is in the end for his novels rather than his political stance or personal failings (or indeed for his poetry or art) that Grass will be remembered. His often exuberant style and his fertile and original imagination were a rich addition to German letters and have impressed readers and influenced authors all over the world. In Die Blechtrommel he created what the Nobel Committee rightly predicted would be "one of the enduring literary works of the 20th century."
To finish, an odd, and perhaps rather trivial, example of Grass's cultural reach: I believe that he is the only German novelist (or Nobel laureate) ever to be affectionately plagiarised in the long running BBC Radio serial The Archers. In a 2002 episode, a visiting Eastern European agriculture student told the story of how his grandparents met – in fact a version of the first encounter between Oskar's grandparents in Die Blechtrommel where Agnes  hides Joseph from the police under her voluminous skirts.  Archers fans who knew their German literature were no doubt relieved when, in a later episode, the student gave Grass his due and admitted that he had borrowed the story to amuse one of the Archer children.
Perhaps not quite what the Nobel Foundation had in mind, but nonetheless it may have won Grass a few more English readers.
Susan Reed, Lead Curator Germanic collections
Works by Grass referred to in the text:
Die Blechtrommel (Darmstadt, 1959) British Library 011421.p.86. (English translation by Ralph Mannheim, The Tin Drum (London, 1962) X.909/2060.)
Katz und Maus (Neuwied am Rhein, 1961) 12520.pp.14.  (English translation by Ralph Mannheim, Cat and Mouse (London, 1963) 11769.w.5.)
Hundejahre (Neuwied am Rhein, 1963) 12521.m.12. (English translation by Ralph Mannheim, Dog Years (London, 1965) X.909/5610.)
Unkenrufe (Göttingen, 1992) YA.1994.a.4374. (English translation by Ralph Mannheim, The Call of the Toad (London, 1992) Nov.1992/1350.)
Günter Grass : catalogue raisonné / herausgegeben von Hilke Ohsoling (Göttingen, 2007). LF.31.b.6661.
Der Butt (Darmstadt, 1977) X.989/71159. (English translation by Ralph Mannheim, The Flounder (London, 1978) X.989/76027.)
Die Vorzüge der Windhühner (Berlin, 1956) X.909/1713.
Ein weites Feld (Göttingen, 1995) YA.2000.a.1568 (English translation by Krishna Winston, Too Far Afield (London, 2000) Nov.2001/1203.)
Beim häuten der Zwiebel (Göttingen, 2006) YF.2007.a.1517. (English translation by Michael Henry Heim, Peeling the Onion (London, 2007) YC.2007.a.14122.)