26 February 2020
Extrème défense! World War One postcard, from the British Library's collection
Our free online course Propaganda and Ideology in Everyday Life will be running for 5 weeks from Monday 2nd March. You can find out more and join this course at https://www.futurelearn.com/courses/propaganda . 
The course is for anyone interested in news, current affairs, politics and history. Over five weeks, we examine how "big political" ideas get expressed and repeated in different cultures and societies around the world, and what that means for our everyday experience. We explore ideas around freedom, justice, community, place and commerce. On the face of it, these themes appear universal - few people disagree that freedom is a good thing. However, definitions of freedom vary, and there are competing views about who and what should be prioritised when freedom is considered.
In our course, we are interested in how this is experienced in people's lives today. Our learners come from around the world, from a wide variety of backgrounds and political beliefs. Current news stories often point to a sharp polarisation of opinion, in particular in online communication and social media. As course leaders, we believe that online education can counter this, by providing a space in which people can respectfully explore and describe differences of opinions and belief - as well as understanding shared values. This is something that we have experienced, and learnt from, in earlier versions of this course.
Propaganda and Ideology in Everyday Life draws on the collections and expertise of the British Library, and combines this with current research from the University of Nottingham's Centre for the Study of Political Ideologies. In the course, you will see examples from our map collections and Chinese collections, as well as examples from modern British publications. Our course leaders are the co-directors of the Centre: Maiken Umbach, Professor of Modern History, and Mathew Humphrey, Professor of Political Theory. Maiken and Mathew are joined by Ian Cooke, Head of Contemporary British Publications at the British Library.  
We are excited to start meeting our new learners on Monday 2nd March. You can join at https://www.futurelearn.com/courses/propaganda
11 July 2019
Gay Liberation Front, Manifesto. London: Gay Liberation Front. 1971
The origins of writing and the reason why we write are central themes around which the Making Your Mark exhibition revolves. Encompassing the act of writing and the mediums used from carvings, scrolls, papyri, typing, print and digital. The exhibition is divided into different chapters, featuring a section on 'People and Writing' that considers the methods and purposes of various types of documents which are utilised as tools of power. Publications that reflect this include charters, petitions, pamphlets and treaties. Another such ubiquitous document that is congruous with this section is the manifesto.
A manifesto is a unique way of communicating which addresses an audience and asks them to unite to take action and change something. In this sense, the manifesto is an historical artifact and political tool within the history of radical democracy. The earliest examples can be traced back to Europe of the 16th Century; most famous manifestos include the Declaration of Independence and the Communist Party Manifesto. The concept of a manifesto is a little bit like a pamphlet, which were often homemade and distributed by hand in public places; likewise the manifesto is a public announcement often printed in newspapers or journals.
Manifest der Kommunistischen Partei, (Manifesto of the Communist Party). London : gedruckt in der Office der 'Bildungs-Gesellschaft für Arbeiter' von J. E. Burghard, [1848] 
There is no definite style or format. What all manifestos share is a call to its reader to unite and join together to make a change. Manifestos are frequently written during unsettled periods, often by small groups of people who want to challenge the status qua. Throughout history the authors vary from political parties, art movements and individuals. Developed as a text, the manifesto fuses art and politics to create a type of modernist literature. Studies of this particular writing form has lead researchers to consider it a genre within its own right.
A manifesto proves that writing is a tool of power and can be used to intervene and demonstrate against dominant systems. The phrasing used is often pleading, attacking, protesting and opposing in tone and declaring the intention of the writer. Any subject, cause or social group can write their own manifesto, but it is always written from an opposing position implying an 'us' and 'them'. The style is often short and repetitive that attempts to get its message across and encourage readers to agree.
The texts broadcast ideals demanding the reader seize the moment to change the future. In this way, the writing is an activist text, inciting readers to take practical action to make decisions for themselves. This articulation must however be recognised by the audience or subject it addresses in order to function.
Where and when and who wrote manifestos are dependent on power struggles and an urge for change. The manifesto can appear under threat in this age of social media where a blue thumb can signify individual consent. Yet the desire to transform injustices and ignorance exists now more than ever. In these unsettled times, there are a lot people who still want to change things. If you were to write your own manifesto, what might it include and why?
This post has been written by Rachel Brett, Reference Specialist for Humanities at the British Library. Rachel frequently delivers discovery sessions on art, fashion and related subjects, and contributes to the Library's Doctoral Open Days. 
08 November 2017
The British Library will be holding a 2-day documentary festival over the weekend Saturday- Sunday 9- 10th December, to celebrate the career of John Pilger, along with other documentaries chosen as fine examples of the craft. The festival will include screenings of films from across his career, John Pilger will speak on the Power of the Documentary (Saturday) and will be in conversation on Sunday afternoon. A full programme can be found here.
The screening celebrates the acquisition by the Library of a digital archive of Pilger's journalism – covering print, film and radio broadcasts over six decades. The archive, produced by Florian Zollmann from John Pilger's personal collection, brings together for the first time nearly 1,500 news reports, films and radio broadcasts.  This includes articles from the Daily Mirror, Guardian, New Statesman, BBC Radio, and 60 films. His latest, prescient documentary, The Coming War on China, is his 60th film. 
Throughout his career, John has demonstrated the power and significance of investigative journalism in uncovering stories of peoples who have been ignored by the mainstream media or left otherwise without voice. His ground-breaking work in Cambodia revealed the devastation caused by the Khmer Rouge, and his film Year Zero: the Silent Death of Cambodia (1979) has subsequently been described as one of the 10 most influential documentaries of the 20th century. His later film, Stealing a Nation (2004), revealed the plight of the Chagos people, who were expelled from their homes in the 1960s and 1970s on idyllic islands in the Indian Ocean to make way for a military base.
John Pilger's work is well-known for reporting on conflict, the human and civil rights abuses that result from conflict and the propaganda used to justify and prolong such abuses. His first film, The Quiet Mutiny (1970), interviewed young American soldiers in Vietnam, uncovering confusion and resistance to the war amongst conscripts and breaking the story of American troop insurrections in Vietnam.
Other work has placed a fresh focus on everyday subjects. His film, Burp! Pepsi v Coke in the Ice Cold War (1984) was an early example of investigative film-making that used originality and wit to examine the power of multinational corporations.
John Pilger's work also sounds a warning of the threats to independent investigative journalism. The War You Don't See (2011) recounts the history of embedded journalism in conflict and asks us to question the reporting of conflicts in the 21st century.
All these films will be shown at the British Library for the festival, The Power of Documentary, celebrating the career of John Pilger and emphasising the continued significance of independent investigative journalism.
07 June 2017
Our free online course, Propaganda and Ideology in Everyday Life starts next Monday, 12th June.
Learners have already started introducing themselves on the welcome page for the course. So far, we've had comments from learners in Ukraine, Germany and Costa Rica, as well as from the UK, USA and Canada. Our group of learners includes students, teachers, journalists and others working in fields such as Human Rights and Communications and Marketing. Political views and past experience vary - a common link is an interest in understanding more about communication and current affairs, and the ways in which values are influenced and formed.
The course has been developed by the British Library, in partnership with the Centre for the Study of Political Ideologies at the University of Nottingham and hosted by FutureLearn. Lead Educators are Maiken Umbach, Mat Humphrey, Sascha Auerbach and Ian Cooke.
The course is run as a MOOC (Massive Open Online Course), which gives us the opportunity to draw on the experiences of our learners, and this is an important element. The steps in each week give insight to current academic research, from across disciplines in the humanties and social sciences. In addition, learners are asked how the concepts discussed relate to their personal experience and everyday lives - we are interested in the ways that ideologies are expressed and reinforced in situations that we may not normally think of as "political". Each week, we ask learners to share images that they associate with the themes being discussed: freedom, justice, community, nationhood and consumerism. You can see some of those images on our Flikr group.
An important element of the course is that it explores the differences in the political beliefs that we hold, and also highlights areas of common ground; for instance in the value that we place on freedom and on community. Already, learners have started talking about the ways in which people react to news or opinions that challenge their political views. A strength of this course is that it provides a forum in which we can talk critically about important political questions in a group where we don't share the same the political views.
Registration for our course is open now, and you can join at: https://www.futurelearn.com/courses/propaganda. Our learners include "avid MOOcers" and those coming to FutureLearn for the first time. No prior knowledge or training is required - just an interest in the way that political ideologies are formed and expressed.
27 April 2016
Update! We won! Very pleased to say that our film won the Courseware and Curriculum Non-Broadcast award. Details are at http://bufvc.ac.uk/events/learningonscreen. Congratulations to Director Alec Millward, author and presenter Maiken Umbach and all involved. 
We're very excited to report that one of the films from our online course Propaganda and Ideology in Everyday Life has been nominated for a Learning on Screen award.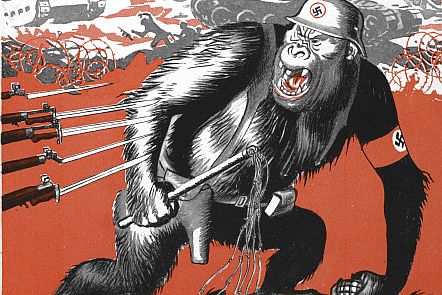 The Battle for Civilisation, British leaflet from Word War Two
The award, to be announced on the evening of 28th April, is in the category of Courseware and Curriculum non-broadcast production. Our film, 'From the "Just War" to the "Unjust Peace"', features in week 2 of our course, which addresses issues related to justice and protest. The film is presented by Maiken Umbach, Professor of History at the University of Nottingham and one of the lead educators on our course. Learners are asked to consider the problem of violence and justice, reflecting on an exhibition of photographs made by Lee Miller. The photographs document the liberation of Nazi concentration camps, including images of violence against the Nazi perpetrators of atrocities. For our course, the question is whether violent methods have a role to play in justice, and the role of war as a means of restoring justice.
The films in our course are designed to explain current thinking and research around issues that are often complex and contested. Bringing a range of perspectives on propaganda and ideology, they feature researchers from disciplines, including history, politics, sociology, media studies and psychology. Our course has 18 short films in total, four of which were made at the British Library and feature material from our collections of maps, Chinese posters, and British World War Two publications.
As with other learning steps on the course, the aim is to generate an informed and diverse debate on politically significant topics that have relevance to our everyday life. When we first ran the course last year, we attracted thousands of learners from over 20 countries around the world. Across the five weeks of the course, participants learned from each others' experience and opinions, and drawing on the leading-edge research presented in the learning steps.
We're very excited that a film from our course has been nominated for a Learning on Screen award, and wish Maiken, director Alec Millward, and the production team the best of luck for Thursday evening. Our course starts on 16th May, and you can register for free now at http://www.futurelearn.com/courses/propaganda
20 April 2016
Our free online course Propaganda and Ideology in Everyday Life starts on 16th May 2016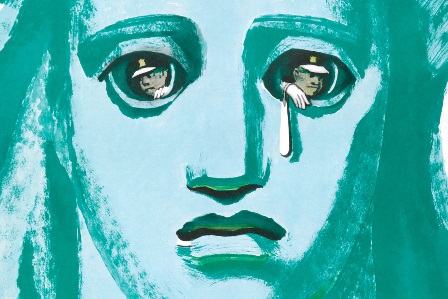 Svoboda po-amerikanski (Freedom, American Style) by B Prorokov, 1971
Freedom, justice, community, place and choice: words which are politically-charged and fundamental in our experience of everyday lives. Over five weeks, our online course explores how words and images gain different meanings, how we interpret the symbols we encounter, and how these interpretations are sometimes 'quoted back' to us with a specific political intent.
Our course is developed and delivered with the Centre for the Study of Political Ideologies at the University of Nottingham. Learners can sign up for the course now, free of charge, at the FutureLearn website. Learning is structured across a small number of activities each week, which are broken down into simple steps. A step might be a short video presentation, or a reading or a question to discuss. Discussion is the most important part of our course, allowing us to learn from each-other's experiences and opinions. The nature of a Massive Online Open Course (MOOC) means that we can explore our shared interests in comparative political study and the way in which our material worlds reflect and shape our political experience.
This is the second year in which we have run this course. In 2015, we had nearly 12,000 learners from 20 countries around the world. Our focus on learning through discussion meant that all participants, including those of us who developed the course, learnt through contributing to a lively debate that ran through all five weeks. Some of this learning has been incorporated into this year's course, including a focus on the experience of migration in expressions of identity, and how definitions of the 'unnatural' influences our political views. In preparation for this year, we have reviewed and updated course content, including the addition of four new films.     
A unique feature of our course is that we ask participants to share images either that they find online or of photographs that they have taken themselves. These images relate to the themes discussed each week, and are surprising in how they reveal our responses to concepts such as 'freedom', 'nature' and 'community'. Many of the images shared last year were of open spaces, representing nature as an expression of freedom but also as something threatened by unrestrained freedom or consumption. You can see a selection of images shared on our Flickr site.
We were incredibly impressed by the quality of interaction on our course last year, and learners were very positive about course content and the course leaders. We hope that you will join us from 16th May when the course restarts, and sign up today at www.futurelearn.com/courses/propaganda/
27 February 2015
This week, we announced our new online course Propaganda and Ideology in Everyday Life. This is the first online course of its type that is using the Library's collections, and we are developing and delivering it with the Centre for the Study of Ideologies at the University of Nottingham. The course will start in May, and run on the FutureLearn platform.
During the course, learners will explore and debate issues such as: freedom, community, place, justice and choice. These concepts form the building blocks of our political views but they mean different things to different people. We'll be exploring how those words come to hold different meanings and how political ideas can impact on everyday lives.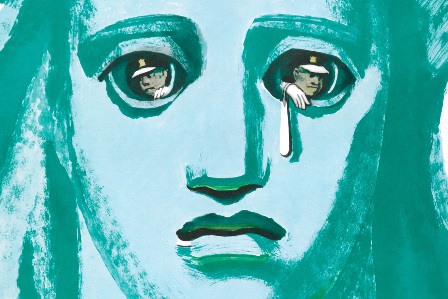 B. Prorokov, Freedom American-Style. 1971. (detail of poster).
There are two academic leads on the course. Mathew Humphrey, Professor of Political Theory, works on environmental political theory and theories of ideology. Maiken Umbach, Professor of Modern History, researches the relationship between political ideas and material culture (eg through the built environment or private photography).
The 5-week course draws on themes and items used in our 2013 exhibition, Propaganda Power and Persuasion. One of the most enjoyable aspects of curating that exhibition was giving public tours and talking to people as they visited the exhibition. This is a subject that everybody has an opinion on and experience of, and this new course will provide a new space in which to continue discussions started during that exhibition, and to look at the subject in a new light.
An exciting aspect of this course is that we'll be calling on learners to post images to an online gallery, contributing to the debate on what freedom or protest or community might mean. The online nature of the course means that people can join from all over the world, and there are no previous qualifications or experience required to take part.
Registration is open now. You can fnd out more, and see a video trailer for the course online.
10 November 2014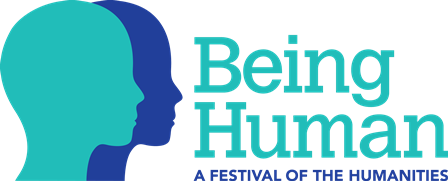 This Saturday, the British Library and Speakers Corner Trust will be at Senate House, University of London, to help celebrate the launch of the Being Human Festival. We're very excited that Zoe Williams and Jeremy Gilbert will be joining us to introduce our two debates, 'Truth, Propaganda and Purpose', and 'Truth, Lies and the Individual'.  
'Too Much Information?' is the theme for the day at Senate House, which will hold talks, workshops, and tours to explore the role of communication, and new communication technologies and behaviours, in our everyday lives. Many of the events focus on the Ministry of Information, which found its wartime home at Senate House, and Mass Observation, the organisation that provided the Ministry with public opinion research.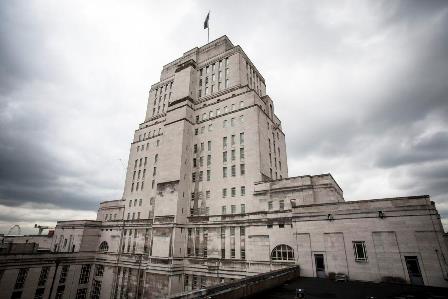 Senate House, University of London. Photograph by Andy Day.
The day doesn't just focus on communication in the recent past though. There are fast-paced presentations on new research in the digital humanities, and workshops on researching the UK Web Archive. The day concludes with 'Openess, Secrets and Lies', a discussion on information sharing, privacy and secrecy online. The panel includes Sir Nigel Shadbolt, Heather Brooke, Ben Hammersley and Doc Rocket.
Our public debates are a chance for you to respond to the themes of the day, and tell us your concerns and aspirations for the way that we communicate in the 21st century. At 1.40pm, join us to debate 'Truth, Propaganda and Purpose'. Author and journalist Zoe Williams will introduce our debate, where we will discuss what forms of political communication and persuasion online are justifiable - and how easy is it for us to discover "the truth" online anyway?
At 3.20pm, Jeremy Gilbert, Professor of Cultural and Political Theory, University of East London, will introduce, 'Truth, Lies and the Individual'. What expectations do we have of others when we communicate online, what standards (if any) do we want to see applied, and do we know how to "play by the rules"?
Join us in the Crush Hall, on the ground floor of Senate House, and let us know what you think.